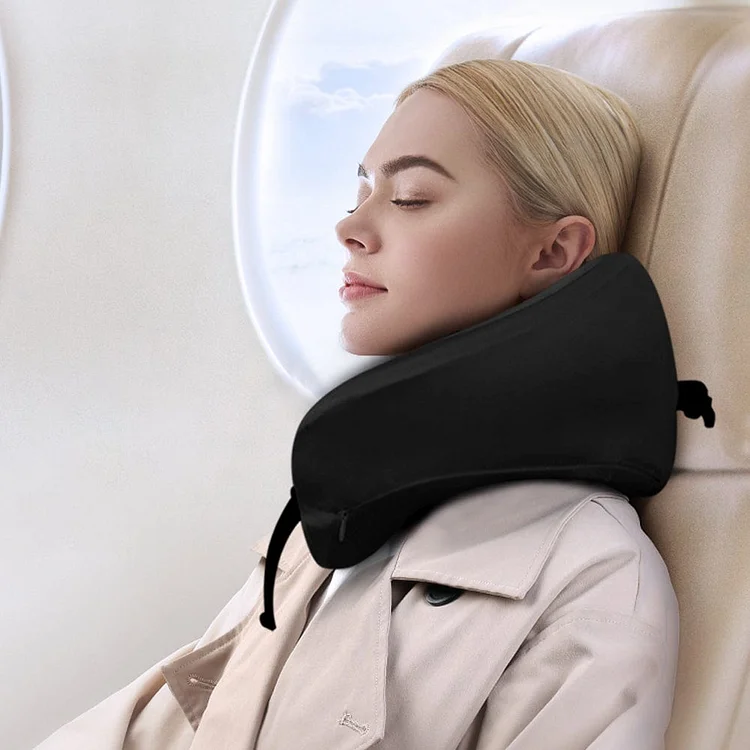 This amazing natural silk travel neck pillow from THXSILK retains the three-dimensional shape of the grooved fiber section to support any head position. As it is made from natural silk, it has excellent moisture absorption, is nonallergic, and is quick to dry.
Material: Pillow: Polyurethane (PU) Cover: Silk (89% Mulberry Silk + 11% Spandex)
Size: 10.5 inches * 10 inches * 7 inches
Weight - 0.3-0.4 kg
Density - 60D
Perfect curves shape design to help better fix your neck, prevent the head from falling forward and relieve neck pain during travel.
An adjustable rope lock helps adjust the angle and size of the pillow randomly to accommodate different neck size requirements. It provides support and comfort exactly where you need it.
Back and neck pain relief.
With its snap strap, this pillow can be attached to your carry-on luggage without taking up extra space.
Lightweight, portable, soft, natural, breathable, skin-friendly, comfortable, adjustable, washable, ergonomic design.
Mulberry Silk Cover---Moisture Wicking
THXSILK natural silk neck travel pillow retains the three-dimensional shape of the grooved fiber section, improving its moisture absorption and quick drying effect. Silk Fiber has a good hygroscopicity, which is 1.5 times of cotton fiber, it keeps skin in a comfortable moisturing point to avoid dry skin, while at the same time its super air permeability help to release sweat and heat to keep you cool. Silk fibers can be very long and thin, can be woven into low-density, thin and smooth objects, and are super friendly to the skin, as if there is no wear.
Softness---Breathable---Anti-pilling---Anti-mites
Slow Rebound And High-Density Memory Foam
VII high-density memory foam adopts European advanced foaming technology. It is soft and does not collapse in all seasons. It is healthy and environmentally friendly, absorbs human pressure, and adjusts the human body to a comfortable posture.
Upgraded M Shape
Upgraded M-shaped arc neck protector design. 
Comprehensive support and zoning design to help you fall asleep quickly.
Zero pressure comfortable and natural wrap.
Conform to the curve design of the cervical spine, fit the curve of the human skull
360° Multi-Faced Solid Support
The undulating surface design closely fits the curve of shoulder and neck, effectively absorbing neck pressure and evenly exerting force, reducing pressure points. At the same time, the memory foam is also providing sufficient support, which makes you feel relaxed on both sides
3-Point Neck Support
· Fits the curve of the head and neck, avoids uncomfortableness.
· Overall wrapping to fix your neck and head.
· Side design helps to uphold your face.