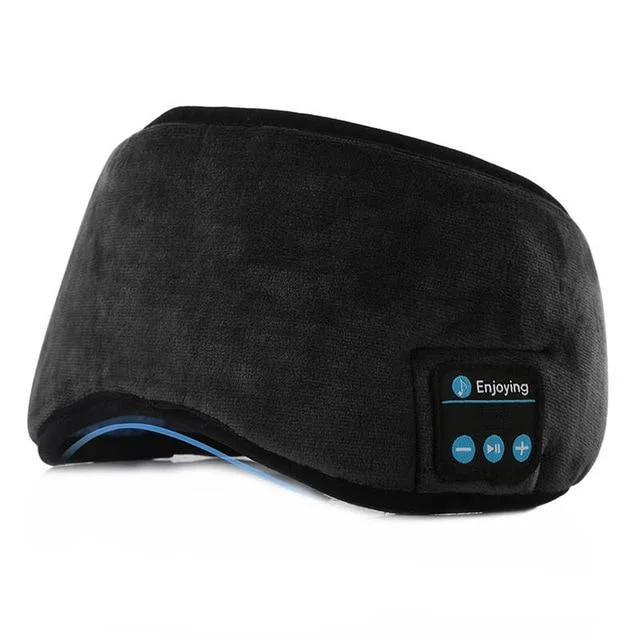 Sleep Deeper, Wake Up Better
Taking a long time to fall asleep? EchoRest™ is here to improve your sleep until the moment you wake up with a 100% block-out sleep mask and built-in music headphones. 

EchoRest™ Sleep Headphones allow you to listen to music without wearing additional headphones and earplugs. A good helper for you to eliminate fatigue, improve sleep and give you more energy to work and study. Fits different kinds of occasions such as indoor, outdoor, camping, or when you are taking all kinds of transports.
If your bedroom cannot completely be shaded by black-out curtains and you want to sleep in

If you want to listen to your music without having to wear additional headphones

If you cannot fall asleep because your partner Snoring or wants to read or watch TV

If you want to sleep while traveling, e.g. on airplanes or in trains

If you are looking for perfect relaxation during yoga, wellness, or meditation
Light and Noise block out Anytime, Anywhere: With bending cartilage design, adjustable and durable, effectively blocking lights coming from the nose area you can get sound sleep or nap everywhere! The extra cushion makes the eye mask and nose touch better, which can completely block light. 
Sleep Headphones and Sleep Mask 2 in 1: this allows you to listen to your music when sleeping without having to wear additional headphones and helps you sleep better protect you from being disturbed by outside noise. Built-in microphone to let you won't miss any callings. Suitable for home, travel, yoga, or any place need to close your eyes. Also helps with insomnia, relaxation, meditation, and more.
Eases stress and anxiety: A sleep routine is very helpful in allowing your mind and body to unwind after a long and stressful day

Excellent Stereo Sound Quality: Featuring the latest Bluetooth 5.0 technology that produces great sound quality and easily pairs with smartphones, computers, and most other Bluetooth-compatible devices. 
Comfortable and Washable: Made from velvet and elastic cotton, and provide a soft and comfortable feeling. Fabric liner separated from stitching is not defective, it is the place to take out the Bluetooth module, so you can fully wash it.
Suitable for all kinds of sleepers: Whether you're a side-sleeper or you just love to roll over while sleeping, wearing this mask won't be any less effective. It is designed for all kinds of sleeping positions.