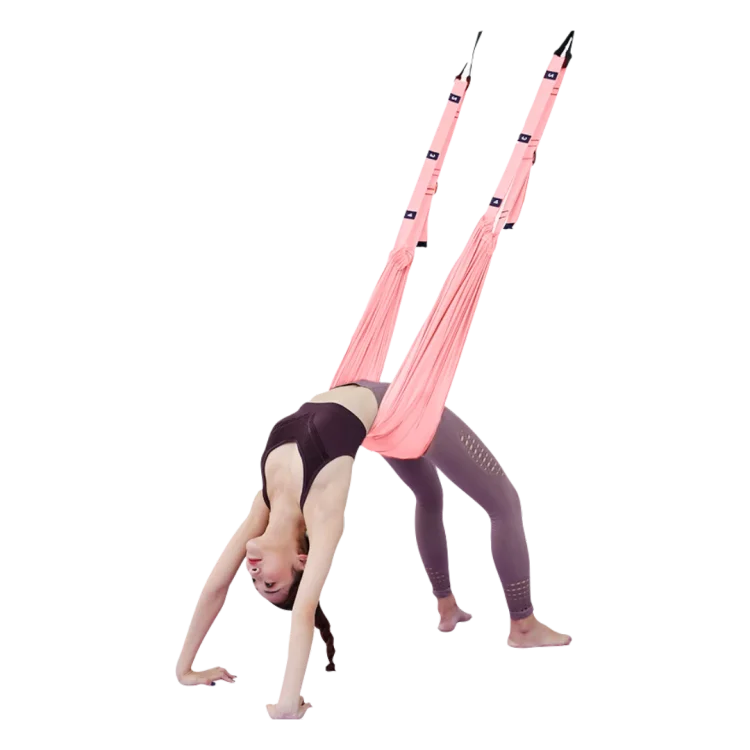 Aerial Yoga Flying Yoga Swing or  Yoga Hammock Trapeze Sling Inversion Tool.  are made of breathable parachute nylon fabric, creates comfort touch feel, great for practicing backbends, splits, inversions, stretching and more postures, ideal for developing core strength, Instant Pain Relief in minutes, improving core and upper body functions, and full-body strength. Also peace of mind you will get after persistently yoga exercise.
Expanded size: 98x59 Inches / 250x150cm 
Withstand capacity: 

400 lbs / 

200kg  
Material:Polyester Cotton
FEATURES:
How it feels: Our stretching strap is softer because its non-elastic material has a tighter weaving and is thicker than others. This all makes our strap skin-friendly and much sturdier.
aerial yoga benefits:
Use it to decompress the spinal cord and enhance upper limb strength. Regular use can enhance physical fitness and maintain a healthy body versatility:
More Exercise:
When you stretch, you elongate your muscles around the joints which helps increase the range of motion and in turn, helps to avoid injury. The special stretch band facilitates gradual and gentle stretches that protect your muscles and make you more and more flexible each day. Our strap with loops for physical therapy will make you feel younger than ever with this new way to stretch.
Professional design: Carefully designed multi-functional anti-gravity yoga hammock made of high-strength parachute fabric
Features: Large and comfortable, light and breathable fabric, triple-height adjustment
Our users: Anyone who wants to exercise can use it, it has no age limitations, women, men, teens, girls, seniors, use it for postnatal recovery or fat burning and body shape. You can also send it to your friends or family members as a gift, and easy to use.
NOTE:

Not only can be used as a yoga hammock, but also as a swing chair, when the middle part of the long part is taken out independently, it can be hung on the tree as an ordinary

SPECIFICATIONS:
Product name: Adjustable Aerial Yoga Strap / Back Bend Assist
Material:

 

Polyester Cotton
Packing size: 25 * 18 * 10CM
Withstand capacity: 200kg
Fabric: 210T Nisi spinning, commonly known as parachute cloth, no stretch.
Expanded size: 250x150cm (98.42x59.05 ") Approx error 3%
Withstand capacity: 200kg
Color:

 green, purple, pink
Package included:
1x Yoga Hammock Swing Set
2x Door Anchor
1x Carry bag