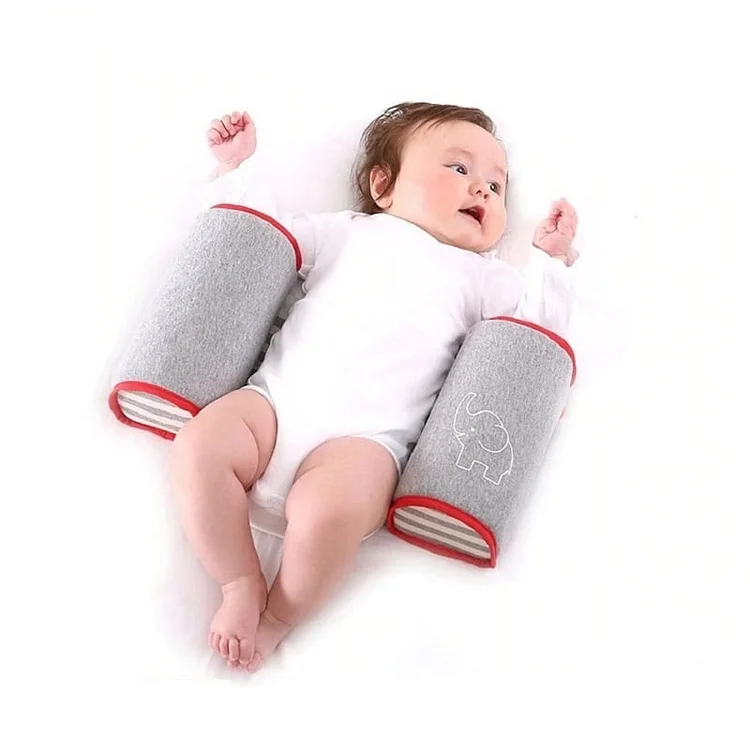 Introducing our Baby Anti-Roll Pillow, the perfect solution to help your little one sleep comfortably and safely. This infant sleep positioner is designed to provide gentle support and prevent rolling during sleep, giving you peace of mind while your baby rests.
Features:
Safe and Comfortable: The baby anti-roll pillow is crafted with soft and breathable materials that provide a cozy and comfortable sleeping environment for your baby. It gently cradles their head and prevents rolling onto their sides or stomach, reducing the risk of suffocation and promoting a safe sleeping position.

Prevents Flat Head Syndrome: The unique design of the pillow helps distribute the pressure evenly on your baby's delicate skull, reducing the likelihood of developing flat head syndrome. The contoured shape supports the natural curvature of their head, providing optimal support for healthy skull development.

Adjustable and Versatile: Our baby sleep positioner features an adjustable design that grows with your little one. The positioner can be easily repositioned to accommodate their changing needs as they grow. It fits snugly in most cribs, bassinets, and baby beds, providing a secure and comfortable sleeping space for your baby.

Easy to Clean: We understand the importance of maintaining cleanliness for your baby's accessories. Our anti-roll pillow is easy to clean and maintain. Simply remove the cover and machine wash it using a gentle cycle. Keep your baby's sleep environment fresh and hygienic with minimal effort.

Portable and Travel-Friendly: Whether you're at home or on the go, our baby anti-roll pillow is lightweight and portable. It easily fits into your diaper bag or travel luggage, allowing you to provide a familiar and comfortable sleeping space for your baby wherever you are.
Ensure a safe and comfortable sleep for your precious little one with our Baby Anti-Roll Pillow. Experience the peace of mind that comes with knowing your baby is sleeping in a secure and supportive position. Invest in their safety and well-being during those precious early years.