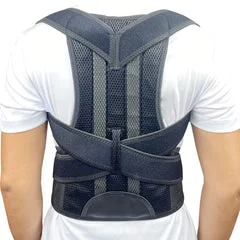 This back brace and posture corrector is intended to assist in pulling the shoulders back and straightening your spine and posture. Fully adjustable, comfy, and simple to put on.
HOW TO PROPERLY WEAR OUR BACK BRACE!
Unvelcro and loosen each adjustable strap.
Become as upright and erect as possible (standing against a wall helps).
Put the brace on while maintaining good posture, then Velcro or tighten any straps such that the brace is somewhat taut or snug against your body.
With its adjustable design, this lower back lumbar support brace may fit a wide range of body shapes.
good for those who spend their days sitting
raises shoulders to ensure proper posture.
supports your back and improves posture.
offers firm back support.
Non-restrictive unisex fashion for both sexes
elastic shoulder and waist straps that retract
USING YOUR BRACE LONG TERM
The lumbar brace will feel tighter when your body becomes fatigued from maintaining that posture, serving as a reminder to straighten your lower back and spine. This support shouldn't be too tight, like most back braces and posture correctors, to make it uncomfortable to wear. If the fit is too close from the start, sizing can be a problem. You can tighten the brace over time to further improve alignment and lessen lower back discomfort.
Braces are designed to help you teach your muscles to maintain good posture. Your posture will improve as you utilise them more. Do not anticipate improvements right away; it took you many years to create this posture. Consistent use of braces is essential for progress.