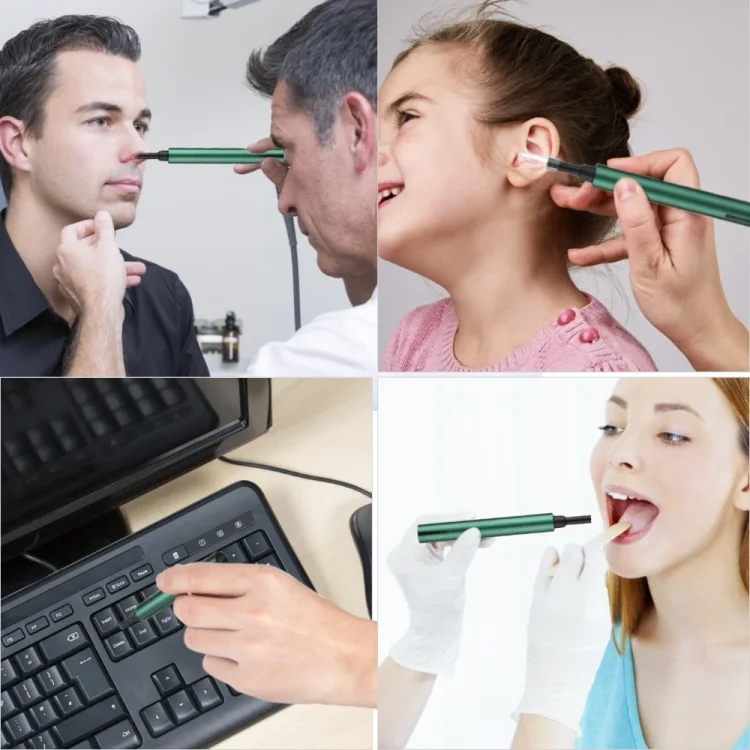 Six axis directional gyroscope can can realize body rotation and keep the lens angle of view unchanged for user friendly operation, suitable for daily ear cleaning care and professional ear disease check. Built-in WiFi hotspot and 3mm diameter camera lens can achieve clear image and real-time whole process video of earwax digging with rich details for practical observation and check of ear canal.
High brightness LED lights can provide auxiliary illumination to help improve the image clarity in dark or low-light condition. Waterproof camera lens can enable easier and painless access into your body and wider application range for eyes, nose, oral, skin and etc.
Features:
1080P FHD Ear Camera & 6 LED Lights - Equipped with 6 professional-grade 3.5mm lens diameter LED lights, it can provide .
1080P FHD images and videos - Clearly see the ear canal and easily remove earwax with our wireless ear otoscope. This Wireless wax camera has 360°wide-angle professional grade lens, creates a large coverage view to help you remove the earwax much easier.Charge it for 90 minutes after receiving it, and the indicator will be on when it is fully charged.

Constant Temperature Control and Super Light Lens - Our earwax removal otoscope made IP67 waterproof material which is easy to clean. And the otoscope built- in constant temperature control system to adapt to your ear canal temperature. The Ergonomically designed makes you use it to reach the eardrum and deep of the ear canal, help you to remove the earwax accurately.

Unique Blue Ray Function - specially equipped with one blue ray light, you can turn on the blue light to clean the ears/nose/mouth/throat or the included ear spoon every time after use.

Note: this blue light function should be operated on your App after connection.

Free 6 Pcs Ear Pick Tool Kit - The ear wax camera remover come with 2 Spiral Ear Pick , additional have 4 differently sizes ear wax spoons, clean ear efficiently to prevent scratches to your delicate ears, never harm your ear canal while cleaning. High safety for adults or children.

Easy to Use & Wide Applications - Just open/close the cap of the ear wax camera will turns on/off automatically. Scan the QR code to download the App,connect to the built-in wifi, ear wax cleaner is convenient for daily inspection of the ear,nose,mouth,throat and other health conditions. This smart visual ear cleaner can be used on all android and ios smartphones and tablets,except computers. You can use earwax removal tool take care of the health of your family.
Specifications:
Material: ABS + Aluminum Alloy
Waterproof Rate: IP67(For Lens Only)
Lens Resolution: 3.0-5.0MP
Lens Diameter: 5.5mm
Charging Time: About 1.5 Hours
Viewing Angle: 70°
Function: Wireless connected
Feature 1: Ear Wax Removal Tool
Feature 2: for Android & iOS