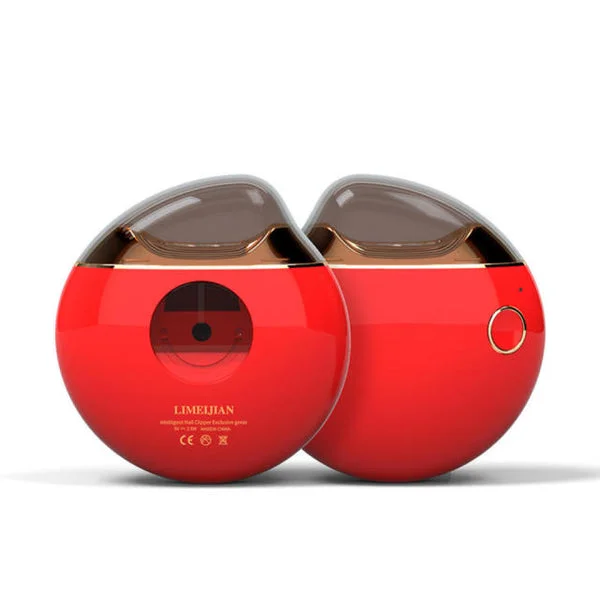 1.【Safe for Babies】- You will never worry about cutting baby's fingers by accident with this nail clipper. It is ergononic designed, very comfortable to hold. Besides, this electric baby nail clipper is also 100% safe. The blade is hidden behind a slot which protects fingers. The automatic nail trimmer is absolutely safe when your fngers touch the slots directly.You can even trim nails with eyes closed or in the dark. This nail clipper is good for the elderly who doesn't have a good vision.
2.【Easy to Operate】 - Even children or the elder people can use this electric nail clipper without reading the user manual. This nail trimmer is ONE BUTTON OPERATION. Only need to press the button, the electric nail clipper will finish cut nails, trim nails, grind / file / polish nails, and vaccum the nail debris at the same time. Compared with tradtional nail clippers, this electric nail clipper or nail file or nail trimmer, whatever you call it, makes trimming nails so easy, neat, smooth.
3.【Collect Nail Debris】 - With this nail clippers, you will never worry about the cut-off nail debris flying to everywhere, and no worry about spending much time in hunting the nail debirs. This nail clilpper has a built-in debris storage box, when the nail clipper works, it vaccums the cut off nail debris into the storage box auotomaticallly. So, you can use this nail file or nail trimmer or nail clipper everywhere, in the office, on the bed, in the car, etc., it collects nail dust itself.
4.【A Wonderful Gift】- This nail clipper is designed suitable for all people, including, infants, babies, toddlers, kids, children, adults, the elderly, boys and girls, men and women etc., all people. This nail clipper is really a wonderful gift for Mothers or Grandmas on Mothers' Day, a practical gift for Fathers or Grandpa on Fathers' Day, a perfect gift to children on Childrens' day, also, this nail clipper is a great gift for friends, teachers, colleagues, bosses, anyone you loved.
Specification: Material: ABS
Size: about 7.8x8x3 3cm / 3.07x3.15x1.30 inches
Color: green; white; pink; green; black; red
Package includes: 1 x*Electric nail clippers 1*USB cable 1*Instructions
1. Please allow 2-3cm error due to manual measurement.
2. Color may not appear exactly as in real life due to variations between computer monitors.
Thank you for your understanding.