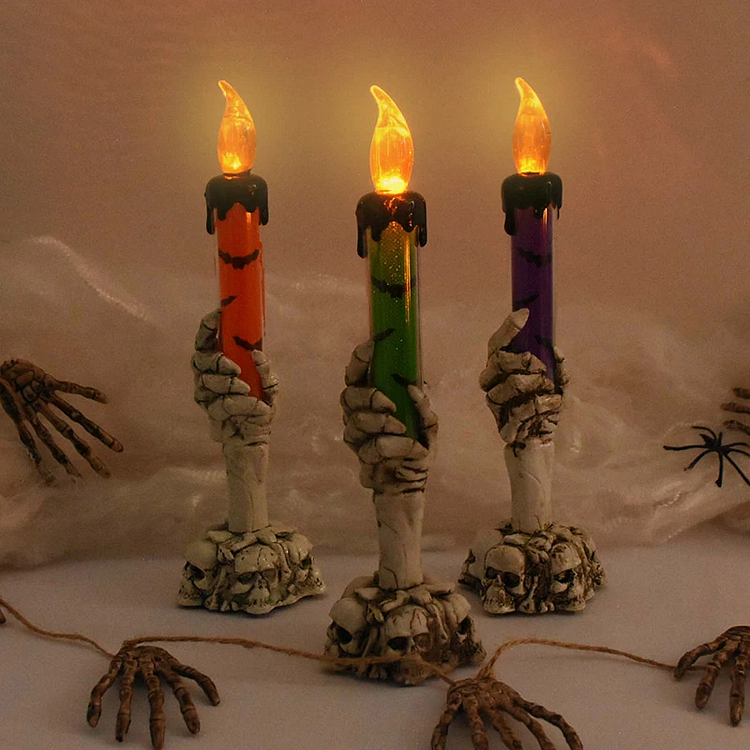 Halloween Skull Candle Holder Light Lamp Skeleton Ghost Hand Flameless Candle Lamp Halloween Skull Skeleton Candle Holder Vintage Miniature Ghost Street Lamp Home Party Decoration
The Halloween skull electronic candle light is made of high-quality materials, which is durable and can extend the use time. Simple operation, no need to recharge.
High-detailed production, no fire risk, is the best alternative to traditional burning candles for smokeless, safe and environmental protection. Can be used outdoors.
It is suitable for Halloween decoration, theme parties, trick or treat celebration and ghost house atmosphere.
 
Halloween Skull Candle Holder Light Lamp, Material: plastic material. Clear texture and smooth surface.
Battery operated: There is a sliding switch at the bottom. Powered by button batteries (included)
Craft: The skeleton adopts the old craftsmanship, which conforms to the theme of Halloween.
The unique flameless candle makes the candle glow through an electronic power supply, which is energy-saving, no fire, smoke, and tasteless, without any fire hazards, and is very environmentally friendly.
This weird Halloween candle light is very suitable for Halloween decorations, party decorations, holiday gifts, haunted houses, bars, stage props, etc., to enhance the festive atmosphere.
Halloween Ghost Hand Candle Light
Quantity:1piece
Material: plastic
Size:L:6x21cm/S:5x15cm
Power supply:Electronic