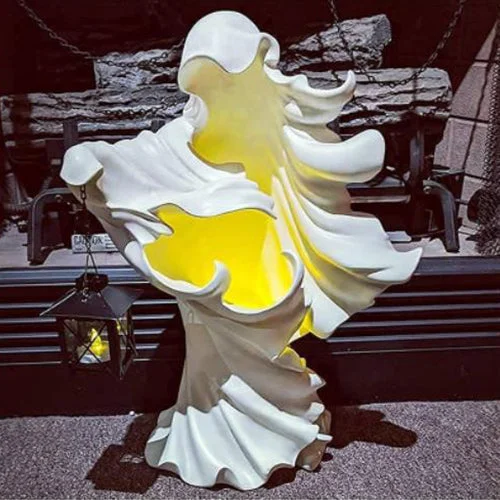 Hell's Messenger with Lantern: Witch resin lantern don't need a face. You only need to use your imagination to "see" a face.She's trying to tell me that no matter what I am searching for in life, to never give up, to keep going even in darkness I'll find the light.
Different from the previous resin garden lamp, it adopts a unique witch shape. The white witch ghoul stands in the wind with the lamp. It will definitely be the focal point in your courtyard.
Description:
Name: Halloween Witch Ghost Sculpture Resin LanternColor: white, black
Style: Witch
Power supply: battery
Category: Resin Crafts
Size: 20*15*10cm
Role: beautiful Halloween decoration, illuminate your garden and home
Material: This gothic statues made of sturdy synthetic resin. Since each one is hand-carved, each one is a unique collection.
Let me see: Hell messenge sculptures is an unparalleled part of this Halloween. Looking at her, that both the witch's body and the lantern in her hand are glowing. I remembered a famous saying 'I?m out with lanterns, looking for myself.
Invisible ghost statue: Bring you unlimited imagination, whether you are at the door of your house or in the garden, on Halloween, it will definitely bring you unexpected surprises.
Great Decoration:You can hang this witch in your room to add a party atmosphere. Perfect for indoor and outdoor use, Great for Halloween, party, wedding, Thanksgiving Day, Christmas, Holiday decoration.