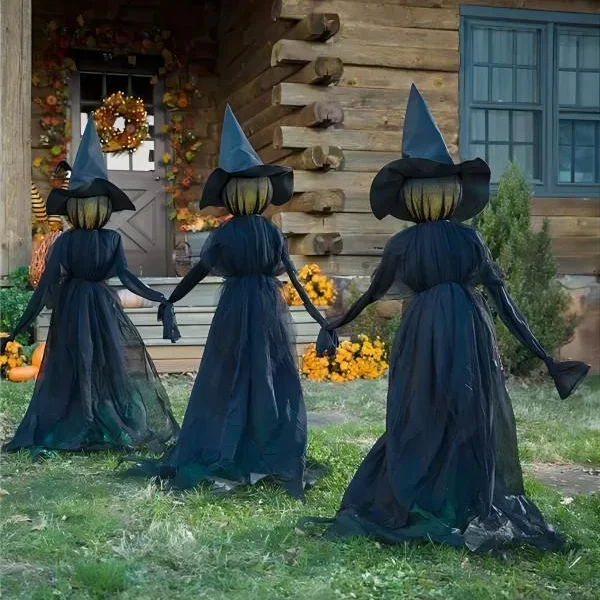 When a person makes a sound, the witch will make a terrifying sound after sensing it, this is quite interesting.
Bewitch your neighbors with these indoor/outdoor Halloween decorations! Lawn ornaments ideal for your Halloween party, they're sure to fascinate and repel your guests and the kids patrolling the street for trick-or-treat candy.
DESCRIPTION:
Nothing says "Halloween" like a trio of spooky witches ominously loitering in the yard. 
Covered in wispy fabric, these witches get staked into the ground 24" apart. Connected as if they are holding hands, passersby will wonder what kind of spell they are conjuring up. When the sun goes down, click the on/off switch to illuminate their faces so they can greet trick-or-treaters!
FEATURES:
Can emit flashes of light
At night, use the on/off switch to make their head glow. Perfect to add to the weird (fun) Halloween decoration.
Voice control
Install a sound sensor on the witch's head. When a person makes a sound, the witch will make a terrifying sound after sensing it, this is quite interesting.
Use waterproof fabric
Mainly use witches as Halloween decorations outdoors. And the light inside the witch's head will not go out in the rain. Our witch's hat is made of waterproof fabric. Don't worry about rainy days.
For decoration 
The witch is covered in black, soft fabric, connected like holding hands. It is suitable for decorating a yard or house on Halloween. Especially, Put them in the yard to increase the festive atmosphere.

5. Use 3 AAA batteries
Don't worry about the witch's light-emitting time for a long time.
 
SPECIFICATION:
Height of a single witch1.5 M
Single head diameter : 15 CM
Head length: 20 CM
Hat height: 31 CM
Single product box packing size: 42.5*27.5*20.5 CM
PACKAGE INCLUDES: