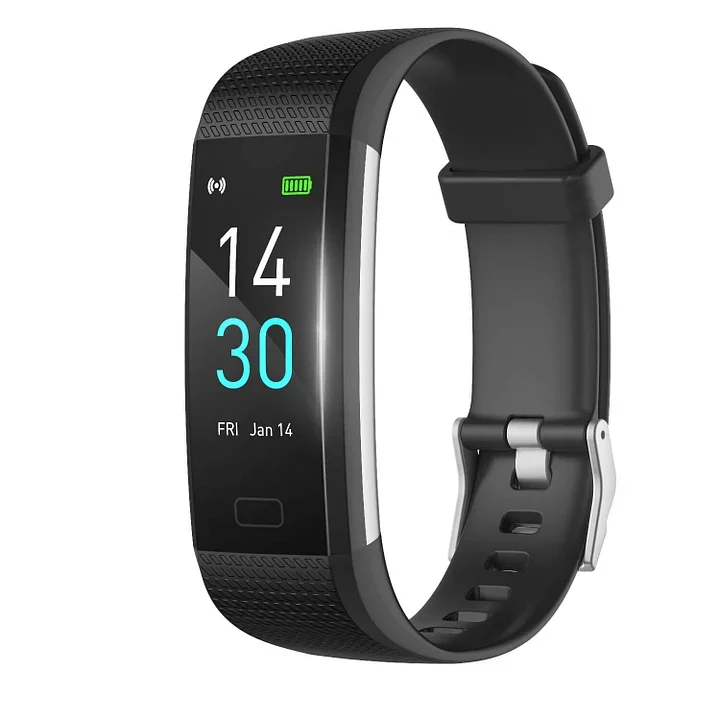 Amazing Smart Tracker Gives You Instant Health Updates!
KoreTrak Helps YouMonitor Your Health by Tracking Your Body's Vital Signs
Check your heart rate, blood oxygen level, body temperature, and more with a glance at your wrist
Built-in apps help you build healthy habits and live an active lifestyle
Perfect for seniors and anyone at risk of heart disease
3 Easy Steps to Start Living Healthier:
1. Order KoreTrak
Place your order today and we'll ship your KoreTrak within the week.
2. Wait for Contactless Delivery
KoreTrak will arrive on your doorstep, ready to wear -no setup required.
3. Get Peace of Mind
Now you can monitor your health and vital signs with just a glance at your wrist.
Keep Your Body Strong and Healthy by Tracking Your Vitals
KoreTrak monitors your body's most important functions whenever you are wearing it. It's never been this fast or easy to get a checkup on your health! KoreTrak precisely measures your vitals, including heart rate, and blood oxygen level. By monitoring these metrics regularly, you'll be able to spot any risky or dangerous health readings faster.
"I used to have to drive to the pharmacy any time I wanted to check my heart rate. Now all I have to do is look at my wrist. It's easier than checking the time!"– Gary L., 65 year old
Since these kinds of detection features were first introduced to smart watches and fitness trackers, they have helped millions of people live healthier lives. They can even alert you to symptoms that you weren't aware of!
There's no reason to keep yourself in the dark when a simple, elegant device like KoreTrak can provide instant insights into your body. Smart health-monitoring can alert you of any health issues that need attention right away! It's like having a doctor watching over you 24/7!
"Heart conditions run in my family, so I'm always watching for the warning signs. I feel better with KoreTrak keeping an eye on my health. It's like having my own doctor on call 24/7." – Wanda J., 54 years old 
All the Smart Functions You Need
In addition to functioning as a health monitoring device, KoreTrak also offers the most advanced smartwatch features.
Its advanced Bluetooth 4.1 technology gives you instant handsfree access to check missed calls, text messages, and more. It's super simple to set up and makes it easy to stay connected to the world around you.
KoreTrak also works great for monitoring your workouts. It automatically records your jogging distance, counts your steps, and calculates the total amount of calories you've burned.
"I'm exercising again for the first time in years! It's really motivating when you can see how far you've run and how many calories you burned. I've only had my KoreTrak for a month, but I'm already up to 8000 steps a day!" – Betty M. 67 years old
Ready to Go
No batteries or charging cables required! Simply plug KoreTrak directly into a USB port to top it up for all-day use.
Accessible
Whether you prefer Android or Apple products, KoreTrak syncs easily with any device. The interface is streamlined and simple for anyone to use.
For Work & Play
Business or casual, KoreTrak is adaptable. Wear it for outings with friends or whenever you work. Designed for everyday use, it features durable and flexible comfort bands, as well as a water resistance casing. 
Smart Design for All
KoreTrak combines the benefits of a fitness tracker, smartwatch, and health monitor all into one.
The Perfect Gift for Anyone
Your Parents
In these days of rampant and contagious diseases, it's more important than ever to monitor your health. KoreTrak makes a perfect gift for people over 55, as these people are often more susceptible to illness. It's a great way to keep a watchful eye over the health of aging parents.
Your Friends & Relatives
KoreTrak makes a perfect gift for aunts, uncles, parents, grandparents, and other people who may live alone. It provides them with instant readings of their vital signs, letting them know whether they need to seek out a doctor.