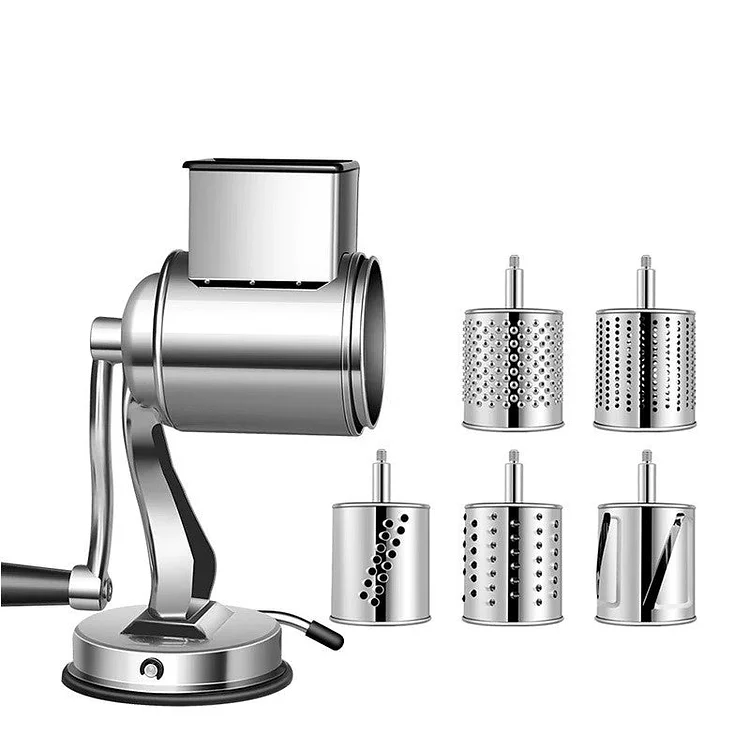 "...helps food prep time immensely. Grating cheese, chopping up carrots or cucumbers for a salad, slicing potatoes, etc. it seems to do very well. Assembly is quick and easy and disassembly for clean up and storage is just as fast."
Save time with meal prep
Do you want to grate/shred/slice meats, veggies, fruits, cheese, nuts...pretty much anything faster and more efficiently? The Multi-Functional Kitchen Rotary Food Grater/Shredder/Slicer is Here!
It comes with 5 stainless steel drum blades that can quickly slice potatoes, chop cucumbers, and grind nuts and biscuits into powder. Making salads and chips will be a piece of cake.
Designed with safety in mind, so you don't have to worry about injuring your fingertips as you would with a regular grinder.
When in use, the base includes a strong suction cup that keeps it firmly in place on the kitchen surface.
Safe, versatile, and easy to clean
✓ The set includes 5 drum blades so you can grate, shred, and slice a large variety of foods
✓ The base is equipped with a strong suction cup for secure attachment to a flat surface
✓ Easy to disassemble and assemble
✓ Easy to operate
✓ The 5 drum blades made from high-quality 430 stainless steel
✓ The attractive design looks great in your kitchen
Specifications:

✓ Material: Metal
✓ Metal Type: iron
✓ Feature: Eco-Friendly
Included:

— 1 X Grater Body
— 5 X Drum Blades
— 1 X Handle
— 1 X Food Pusher