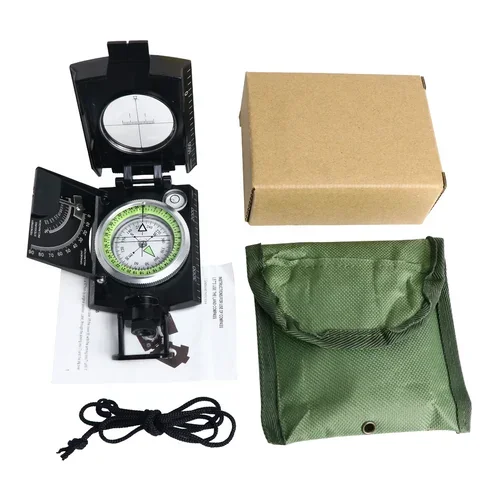 Product Description
Best Overall Compass
You'll be all set for some great adventures with this lightweight compass that provides reliable and accurate directional performance. This is a heavy-duty military compass suitable for practically any situation. There are a variety of features including a thumb hold, magnifying viewer, and a sighting window with a reticle.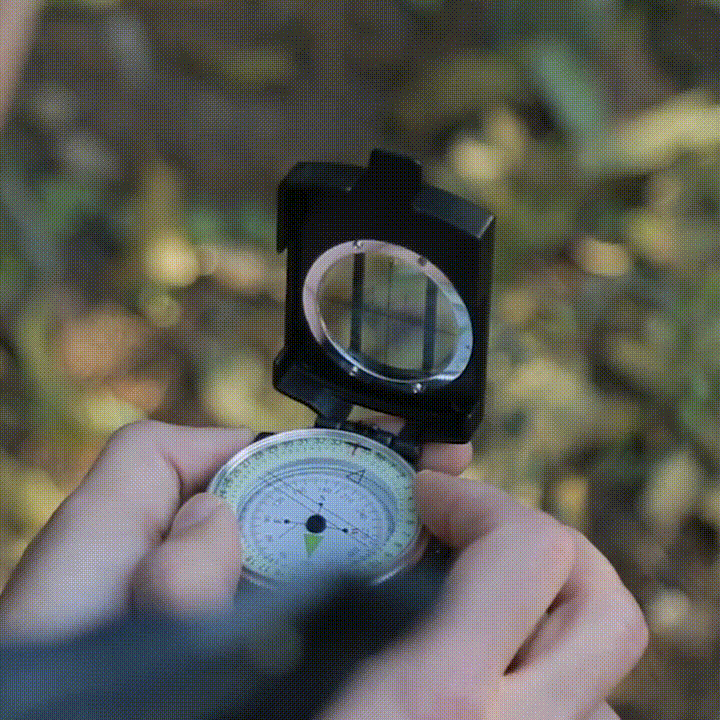 Made of sturdy metal, this compass can withstand rain, snow, mud, and more. At the same time, it's reliable and easy to use, which makes it perfect for less strenuous outings such as fishing trips and day hikes.
The easy-to-see sighting window and sighting line make it easy to read. The floating compass dial has a 360-degree scale. This handy navigational aid helps you get where you want to go without losing your way. If you do get lost, this great compass can help you get back on track easily. There are no batteries, electronics, or anything else which might lose power. This is a compass perfect for military use or extreme outdoor adventure.
The clinometer allows the measure of height and slopes and tells you the differences between them. This military green compass comes with its own nylon pouch and manual so you can learn how to use it properly.
| | | |
| --- | --- | --- |
| Sighting Window With Reticle | Measuring Slopes With Clinometer | Taking Bearings From Eyepiece |
✔️BUILT WITH CLINOMETER - With the clinometer, you can measure the angle of slope, elevation, and avalanche hazards when mountain climbing, backcountry skiing, or hiking steep slopes.

✔️EASY TO HANDLE & READ - A liquid-filled compass with an integrated bubble level, it delivers reliable and accurate readings, thanks to the luminous dial, adjustable luminous marching line, thumb hold, and magnifying viewer, you can get a fast and easy read.

✔️SOLID BUILD QUALITY - Waterproof rugged aluminum alloy build means it can withstand extremely tough situations, due to its size, features, and military-level sturdiness.

✔️OTHER IMPRESSIVE FEATURES - You can align objects in the distance with the sighting hairline, it also has an adjustable diopter sighting lens, a rotating bezel ring, and a measurement conversion chart, it comes with a strong canvas pouch and lanyard and can be mounted on a tripod.

✔️PERFECT FOR OUTDOOR ADVENTURES - It works great at taking bearings and sighting when camping, hiking, hunting, scouting, and more.
Size:



Weight:295G/330G