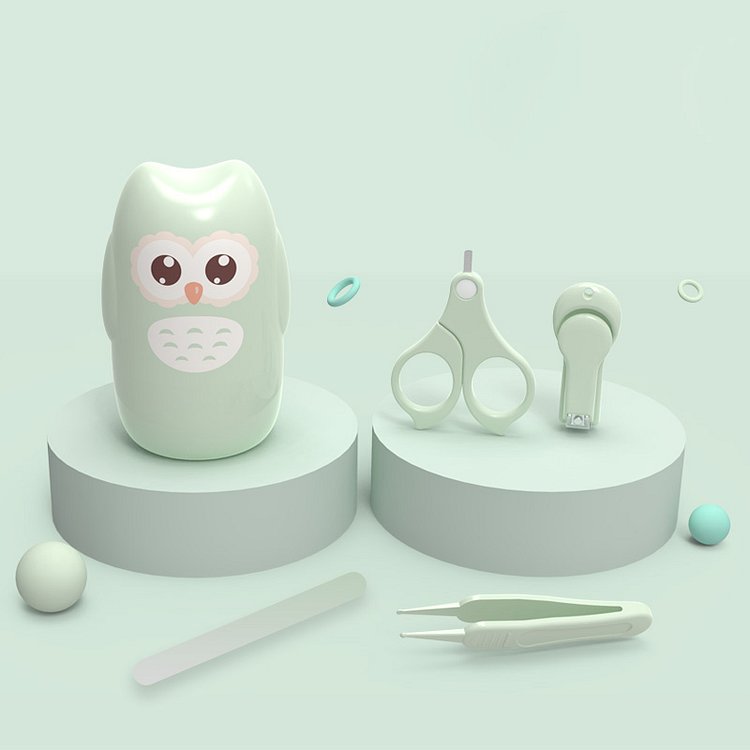 Strike with fear every time it comes to clipping your newborn baby's nails?  

Get this "everything-under-control" grooming kit for a stress-free experience!
Why you need baby clippers? Babies always actively move around their hands all day. If you don't stay alert of their nails, chances are they will get some awful-looking scratches on their delicate skin. You'll probably want to cut them about once a week before it gets any longer.
What can you do? Well, adult-sized clippers are normally far too big. Your baby's fingers are far smaller than yours 10 times! You can't use such big clippers that pose the risk of cutting your baby unintentionally with a bulky blade and sharp edges. 
Solution? Why not invest in a good baby nail clipper that allows your baby to have a comfortable and risk-free nail trimming experiences. This newborn nail kit is much safer. A must-have baby accessories with rounded tips and curved edges. Right size for micro-precision trimming. The ergonomic non-slip handles ensure everything is under control. Now, you can face your biggest parenthood fear with confidence!
Features:
4-in-1 complete set. Fingernail clippers, nail file, tweezer, and scissors. Grab this 4 for 1 deal that makes your precious baby's manicure a piece of mind. These are the tool that'll let you get the job done quickly and safely before they get a chance to fuss.
Safe with right size. Size really matters. It could be a nightmare for most parents when it comes to baby grooming. But with this correct-sized tools, you are definitely in full control of your baby nail care. 
Rounded tips and curved edge. 

This product has a simple, curved edge that will do a perfectly good job of safeguarding the corners of your child's fingertips. 

It also has a large non-slip handle, so you'll be comfortable while clipping. The non-slip gripper is important when every slight movement counts, and one wrong move could mean a screaming toddler and a guilty conscience.
Special gift for special occasion:

 If you are hunting for something nice as a gift for baby shower occasion, this all-rounded set could be a perfect fit. You'll be surely remembered as the one thoughtful of parenthood struggles!

Premium quality. The plastic parts are made of premium-grade ABS for superior toughness and strength. All the blades are 

stainless steel that lasts for a long-time. I

t fits easily in a diaper bag or purse with a compact cute case design.
Specifications:
Material: ABS and Stainless Steel
Baby Nail Clipper: For 6+ month
Baby Nail Scissors: For 0+ month
Baby Tweezer: For 0+ month
Baby Tile: For 0+ month
Package List:
1 x Nail Clipper
1 x Nail Scissors
1 x Baby Tweezer
1 x Baby Tile