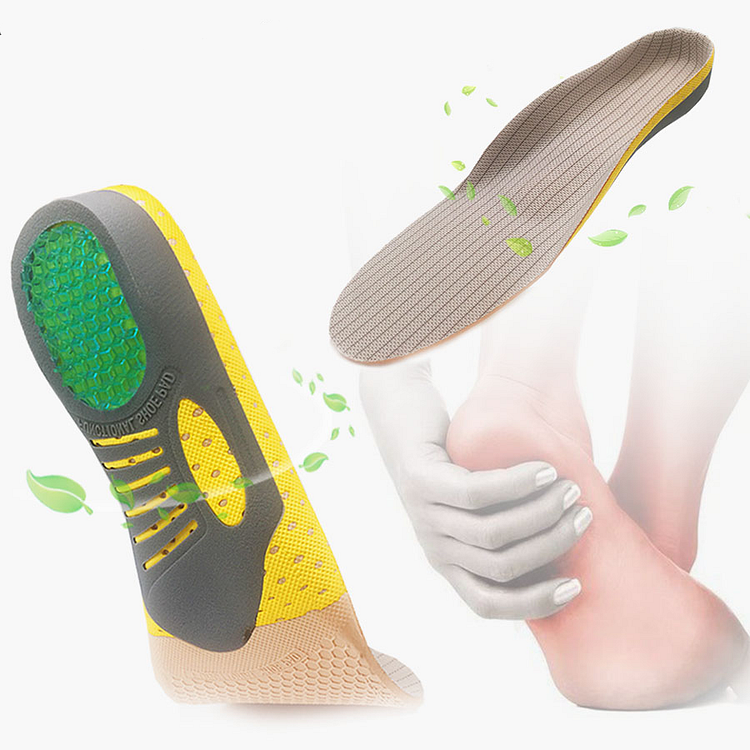 Got diagnosed for Plantar Fasciitis or Flat Feet? Planning to change your footwear or getting a Custom Orthotics with a hefty $400 price tag?
Why must you invest in absolutely new pairs of shoes when you can just use your old ones by switching to orthotic insoles that don't cost you a fortune? An orthotic insole can help you relieve the pain of your foot condition, stabilize your body, gain back your life, and fits in most of your shoe perfectly! 
Fight the unbearable pain with this orthopedic insoles. Discover comfort that allows you to move with ease. The superior honeycomb heel padding brings you a higher level of support to absorb any shock produced and offer you relief. You can complete your daily 5-mile run without worsening your plantar fasciitis pain anymore!
It features semi-hard arch support that helps to improve flat feet (Pronation) effectively. They can fit almost all kinds of shoes providing you adequate and perfect comfort. No more ankles swell up after walking for all-day or any knee pain grinding sensation traveled from your ankles as a result of flat feet condition!
The technologically advanced insole comes with a deep heel cut for rigid support of your ankle joint for maximum protection. Indirectly, it improves motion control and will diminish over-pronation while enabling you to walk or run with extra comfort.
Features:
Superior shock absorption with the honeycomb heel padding that provides you long-lasting comfort all day and potent against heel pain.

Semi-hard arch support that helps to improve flat feet condition effectively.

Made with medical-grade EVA foam with high-quality shock cushioning that makes you feel like you are walking on clouds.

Polyester fiber fabric top cover helps to sack all the moisture produced in the feet keeping it cool and dry, this will prevent it from any growth of bacteria. 

Redistribute your body weight pressure that can cause pain and reduces stress on knees and lower body.

Technological advanced deep heel cup for maximum protection and comfort. 

Fit for all boots, sneakers, or running shoes as you can use them in almost any type of footwear with the flexibility to trim it to your shoe sizes accordingly.

Designed for everyday use providing you comfort and cushioning for all types of leisure or everyday footwear.
How To Trim:
Overlay your shoe's insole on top of the Orthopedic Insole.

Align the edges of both insoles and trim the front part of it to have identical size for fit in your shoes.
Specifications:
Dimension (For Women): 10.3" (26.2cm)
Dimension (For Men): 11.5" (29.2cm)