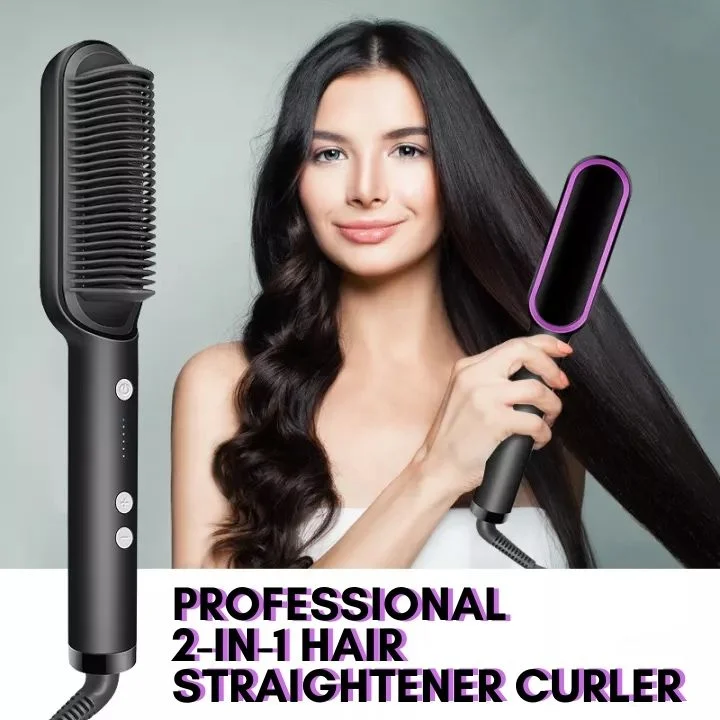 PROFESSIONAL 2-IN-1 HAIR STRAIGHTENER CURLER HOT AIR COMB
Stop Struggling With Your DIY Blowouts!
Are you searching for a heating tool that can detangle, smooth, straighten and curl your hair without causing harm? You've come to the right place! In just 5 minutes, our Special Heating Technology 2-In-1 Hair Straightener Curler with combs design work together to give you a healthy-looking, frizz-free hair without damage!
Our straightener is suitable for everyone, even beginners! With or without experience, you can now style glossy and straight hairs in no time with just a few simple steps. Simply comb down your hair slowly multiple times for better results. What's more? Thanks to its multifunctional design, this flat irons can be used as a curling iron too! Now you can style different hairstyles effortlessly!
Additionally, this hair straightener brush features an anti-scalding comb design, so you as a beginner no longer have to worry about burning and shocking yourself while styling. Moreover, the adopted PTC Heating Technology quickly heats the hot air brush in 30 seconds and maintains a constant temperature that does not damage your hair.
The best part of all, our best hair straightener comes with 5 temperatures settings (130°C, 145°C, 160°C, 175°C, 200°C) to works on all hair types. You can choose the temperatures freely according to your hair type and own needs. Plus, in order to secure the safety of each users, the straightening brush will automatically turns off the power if it is not used for 30 minutes.
FEATURES:
5 TEMPERATURE SETTINGS - This curling hair brush comes with 5 temperature settings from 130℃ to 200℃, where works for all hair types including fine, normal, thick, rough and damaged hair types.
HUMANIZED DESIGN -

 

The built-in smart chip in our best straightener automatically cuts of the power after 30 minutes without operation to secure the safety of users every second.
ANTI-SCALDING - Featuring an anti-scalding comb design, this hair styling tool makes beginners no longer have to worry about burning and shocking themselves.
HEATS QUICKLY AND EVENLY - The adopted PTC heating technology in our hot air brush can be heated quickly and evenly just in 30 seconds, while giving you a long-lasting straightening and curling effect.
SPECIFICATIONS:
Material:
ABS Material
Item Net Weight:
0.85 LBS
Dimension:
13.1"(L) * 2.04"(W)
Power:
45W
Voltage:
220V 
Frequency:
50Hz
Minimum Temperature:
130

°C

Maximum Temperature:
200

°C

Plug Type:
US Plug
Color:

Chili Red
Raven Black
Porcelain White
Forest Green 

Package Includes:

1x

PROFESSIONAL 2-In-1 Hair Straightener Curler Hot Air Comb

1x

 

Manual Guide Book