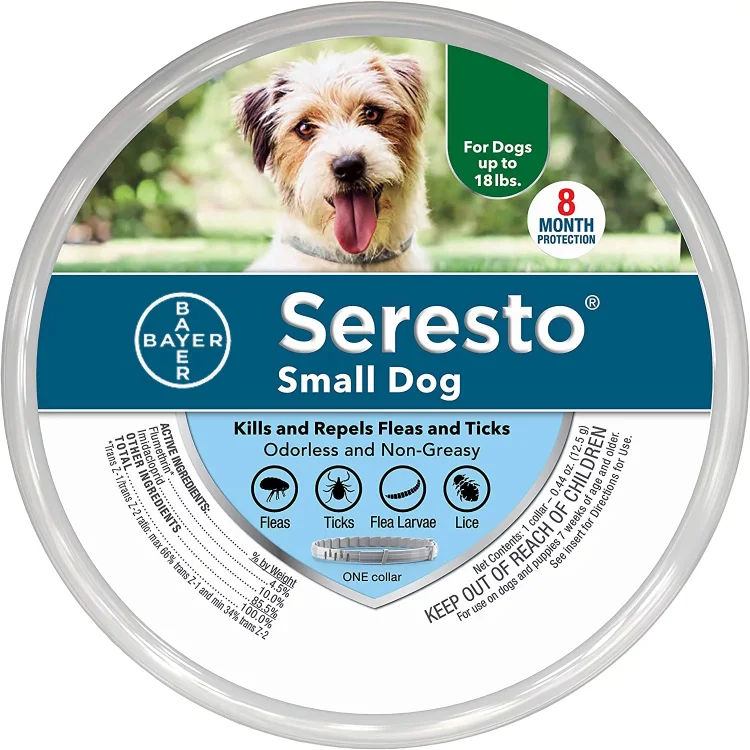 The #1 Selling Flea & Tick Prevention Collar 2023 
Summer Sale with LOWEST PRICE EVER ! Will soon be back to $69.99/pack !! DO NOT MISS OUT !! 
Patented
product
, no infringement 
allowed.
✔✔✔ 100% AUTHENTIC GOODS GUARANTEED
LIFETIME WARRANTY & 30 DAYS MONEY BACK GUARANTEE 
If our products break down due to normal use, we will replace them for you FOR FREE. We guarantee the highest quality for your dog. 
Try it RISK-FREE with a 30-DAY MONEY-BACK GUARANTEE !!!
We collaborate with the

 

Top-Level

 

factories and vets

 in the world and are dedicated to delivering the best products ,bypassing all the distributors,

 

to our customers directly. 



We are committed to providing our customers the

 

HIGHEST QUALITY

 with the

 

BEST PRICE ONLINE

 

and are confident to offer you a

 

BIG SURPRISE

 

on our product ! 
About this item
Vet-recommended, premium flea & tick protection for large dogs & puppies without the price tag

Long-lasting flea collar kills & repels fleas for 8 continuous months

Seresto is the #1 selling non-prescription flea & tick brand, stocked by 8,000 vet clinics (Parasiticide Collar Dollar Sales in Vet Clinics. Elanco Animal Health, Data on File, Feb 2022)

Starts working within 24 hours to kill & repel fleas 

Hassle-free, non-greasy, easy-to-use flea & tick protection
How to apply the Seresto collar on your dog:
1. Remove the collar from its packaging.
2. Unroll the collar and remove the small plastic connectors from inside the collar, ensuring that no remnants remain.
3. Insert the end of the collar through the buckle and loops.
4. Adjust the collar around your dog's neck until it fits comfortably on them.
5. Two fingers should fit beneath the collar and neck to ensure it's not too tight. Any excess length of the collar beyond an inch past the loops should be cut off, unless it is on a growing puppy, where some additional length may be needed for adjustment as the puppy grows.
6. Check periodically and adjust fit if necessary, especially on growing puppies.
7. Seresto comes with three optional reflector clips that can be attached to the collar to help keep your dog visible at night. The reflector clips should be evenly distributed on the non-overlapping part of the collar.
Frequently Asked Questions
1. How long does it take to work on fleas?
Seresto kills existing fleas on dogs within 24 hours after application. After those 24 hours, new fleas are killed within 2 hours.
2. How do I know if the Seresto collar I purchased is authentic?
All products from Petpet-park are 100% authentic guaranteed. It is crucial that pet owners purchase real and genuine Seresto products from authorized and trusted retailers. Counterfeit collars and their packaging look very similar to the actual product. Be sure the collar does not have a greasy feel or an odor.
3. Does it expire?
There is no expiration date required on the packaging.
The product should be kept in its original packaging and stored as directed on the label.
4. What are the key ingredients?
The active ingredients in Seresto collars are Imidacloprid and Flumethrin: Imidacloprid to help protect against fleas and Flumethrin to help protect against ticks. No other product has this combination of ingredients.
Over 500,000 Happy Clients!!!
Check the Feedback from Our Customers at the Bottom ▼▼▼
Keep your pampered pooch pest-free with the Seresto Flea and Tick Collar for Dogs! 
This pest-protection system uses an innovative design unique among flea collars for dogs. It delivers a safe, controlled dose of active ingredients that can eliminate unwanted fleas and ticks as well as prevent future infestations for up to 8 months. It is designed as a breakaway flea and tick collar for dogs with 3 visibility reflectors for added safety.
Parasites like fleas and ticks can carry and transmit diseases to pets. They can reproduce rapidly and cause long-term injury and secondary infections if not treated and prevented quickly. That is where Seresto flea collars for dogs can help.
The Seresto Flea and Tick Collar for Dogs releases a sustained, low dose of pest-eradicating ingredients that can protect your pet. The unique design helps to eliminate unwanted harmful flea and tick infestations within days and then maintain that protection for up to 8 months with normal use. Flea collars for dogs that prevent pests reduce the likelihood that your pet will become infected with a pest-carried disease. The Seresto Flea and Tick Collar for Dogs is designed with a number of features to keep your pet safe as well as prevent pests. As a breakaway flea and tick collar for dogs, it will release if it gets caught on something and inadvertently traps your dog. A breakaway flea and tick collar for dogs is a great safety precaution if you are not always there to supervise your dog and help with unexpected snags. Also, this Seresto collar comes with 3 visibility reflectors for added safety. Shop for the Seresto collar that provides the best fit for your dog.