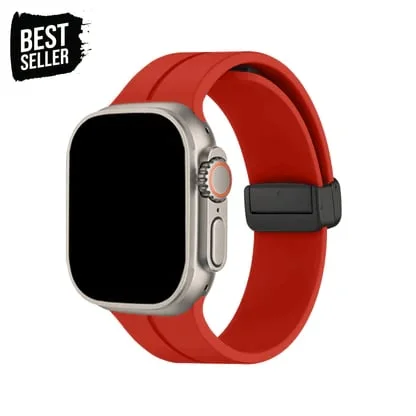 Experience Comfort and Elegance with the Magnetic Band For Apple Watch !
Elevate your Apple Watch to new levels of style with the Magnetic Band For Apple Watch.
Crafted with premium materials and innovative magnetic design, this band combines comfort and elegance in one product.


Key Features:
Magnetic Design: The magnetic technology allows for a perfect fit and easy attachment and removal of the band.
All-Day Comfort: With soft and breathable materials, you can wear your Apple Watch comfortably for hours.
Personalized Style: Available in a variety of vibrant colors and classic tones, the Magnetic Band For Apple Watch lets you customize your watch to suit your unique style.
KNOW YOUR APPLE WATCH
Knowing how your Apple Watch fits on your wrist is important to get that perfect fit. Our watch bands are compatible with all Apple Watch sizes (Series 1 - 8, Ultra, and SE versions). They typically come in two main sizes, and are determined by the width of their lug connectors.
Sizes
38 / 40 / 41mm  Fits wrist sizes 5.1 - 7.5 inches
42 / 44 / 45 / 49mm  Fits wrist sizes 5.7 - 8.7 inches
Models
Series 1, 2, 3 Cases are in sizes 38 and 42mm
Series 4, 5, 6, SE Cases are in sizes 40 and 44mm
Series 7, 8 Cases are in sizes 41 and 45mm
Ultra Cases are in size 49mm