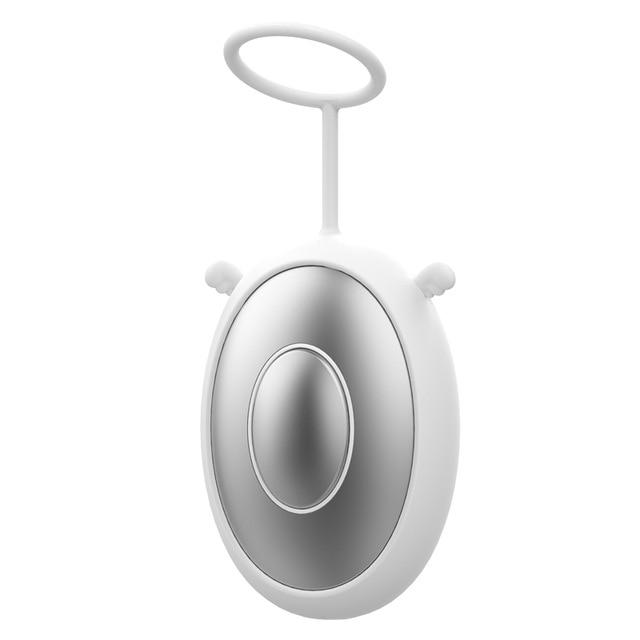 How To Sleep Soundly Without Anxious Mind - Within 15 Minutes Or Less! 
Slept poorly through the week? Awaken multiple times throughout the night and have difficulty getting back to sleep? Or frequently wake up earlier than you wish? Daytime tiredness or sleepiness? Don't feel refreshed when waking up from sleeping? Chances are you could be silently suffering from a sleeping disorder!
If you are an insomniac, you can rest assured that you definitely are not alone. It's estimated that around 30 to 50% of the US population is affected by insomnia. Suffice to say, most of us will experience insomnia at some point in our lives. Forget about the prescription sleeping pills when you can use this all-natural device to help you get quality sleep at night!
Solution? No more tossing or turning and desperately trying to fall asleep with this game-changer oval-shaped handheld sleep aid device. It works better than your expensive prescriptions. Don't risk taking the OTC medications with unknown long terms side effects. Getting a good night's rest can be easier than ever!
How does it work? Sleeping is a physiological process. Adopting micro-current Physics, it stimulates the neurotransmitters in the cerebral cortex to regulate emotions and promote sleep. The feeling of anxiety can be completely calm down with the regulated micro-current frequency between the hand and brain. Holding it in your palm will help to relax and put your mind to a clear and quiet state completely. Time to sleep soundly like a baby!
Features: 
Fall asleep faster.

 

Sleeping comes easy with this sleep aid device. You will

 pleasantly surprised at how well it helps you to fall asleep by just holding it in your palm. 

Safer alternative to prescription.

 

Sleeping pills have side effects like other medications. 

You won't know, though, whether you will experience side effects with a particular sleeping pill until you try it. This sleeping aid could be your best alternative!

Ergonomic design. The matte texture finishing and ergonomic design guaranteed you the maximum comfort when holding it for night sleep.
Portable and lightweight. The device is so portable and lightweight. You can easily bring it along on vacation to keep you fall asleep easily. 

USB charging. Easily chargeable with any USB plug available in your house with great convenience. 
Target Audiences:
If you are having difficulty falling asleep at night.

If every night has become a battle for you to try and get proper sleep. 

If you are frequently waking up during the night.
If you are waking up too early every morning.
If you are not feeling well-rested after a night's sleep.
If you are having daytime

 tiredness and sleepiness.

If you are having irritability, depression or anxiety.
If you are having difficulty paying attention, focusing on tasks or remembering.
Increased errors or accidents.
*Disclaimer: Specific results may vary from individual to individual.
How to use:
Put the front of the product completely on the palm of your hand for 15 mins each time you want to sleep.

Adjust the frequency by toggling the +/- buttons.

Long press the power button to turn off the device after use.
Notes:
Specific results may vary from individual to individual.
It is prohibited to use in patients with Epilepsy.
It is not recommended for patients with implanted electronic devices such as pacemakers and insulin pumps.
It is not recommended for patients with hemorrhagic stroke history.
It is prohibited to use it with high-frequency equipment, short-wave, or microwave treatment equipment.
It is prohibited to use the device near the chest area or when operating complicated and dangerous equipment or driving.
Avoid using it with high-frequency for long hours to simulate the same position.
If you had skin discomfort with a burning sensation, take a rest for a few minutes before resume back the therapy.
Specifications:
Material:

 ABS/Stainless Steel

Dimension:

 2.69 x 1.59 x 1.51" (68.5 x 40.5 x 38.5mm)

Net Weight:

 38g

Battery Capacity:

 500mAh

Input Voltage:

 DC 5V/1A

Operating Current: 

1.5-2.0A

Charging Time:

 2 hours

Operating time:

 17-20 hours for 15 minutes each session

Charging Port:

 Micro USB

Color:

 Yellow/White/Light Blue

Gender:

 Unisex
Packing List:
1 x  Sleep Aid Device

1 x USB Cable

1 x English Manual