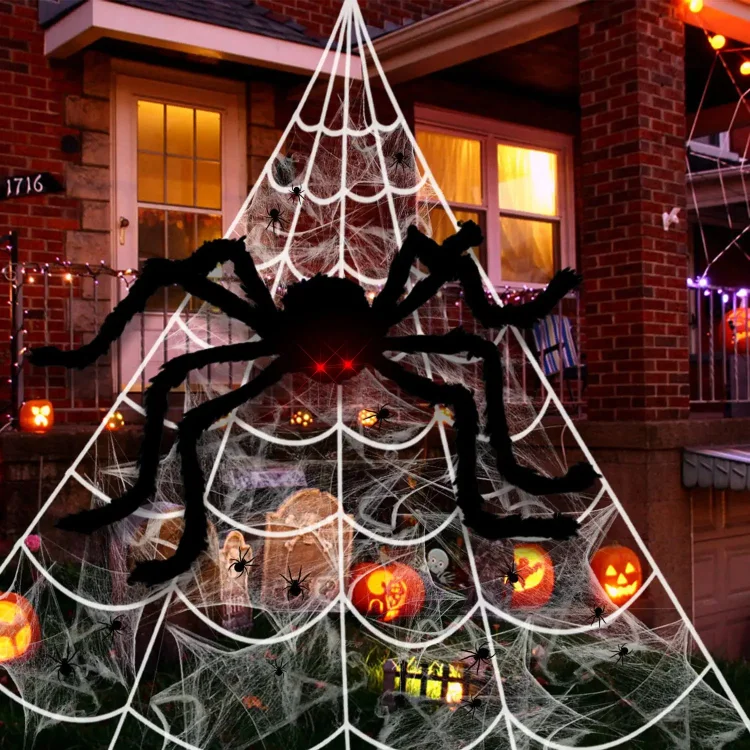 Spider Webs Halloween Decorations !!!
Do you want to create the perfect spooky spooky atmosphere for your Halloween? Our Halloween spider webs will not disappoint you.
Halloween decorations outdoor, Triangular Stretch Cobweb for Outside Indoor Yard Garden Lawn Party Haunted House Décor
Creepy realistic spider props sets will add more spookiness to your house or party, and they will make your Halloween party even more popular!
Durable and reusable! The spider web is made of high quality nylon blend. Black spiders are made of high quality non-itch plush and wire. Long lasting and reusable.
🎃 Halloween Decorations Outdoor: Halloween spider webs with spider webs and Halloween spider decorations for outdoor, indoor, front porch, yard, lawn, home, bar, walls, trees, windows, scary decorations. Can be used anywhere in Halloween decoration style.
🎃 Easy to Decorate and Reusable: Triangular spider webs are made of sturdy thick polyester rope for durability. Lightweight white spider web with hooks, easy to attach to walls, windows, lawns and more. It is the perfect indoor and outdoor decoration for Halloween.
🎃 Halloween Spooky Atmosphere: The unique sight of Halloween giant spiders with cobwebs is sure to attract and scare your neighbors and friends on Halloween! Let them be there, experience the spooky tension and make Halloween even more fun.
🎃 Ideal for Halloween Gifts : Win the attention of kids and adults alike at ghost carnivals, masquerade parties, Halloween parades, trick-or-treating, and lots of compliments.
Easy to Install & Use:
1. Fix the top hook on the roof or branch
2. Spread spider web as much as possible
3. Tie the net on the hook and insert the hook the ground
4. Hang the spider on the spider web

Package include:
1 x Halloween Spiders Web
1 x Gutter Hook
5 x Ground Stakes
1 x Scary Spider
20 x Little Spider
1 x Cotton Spider Web