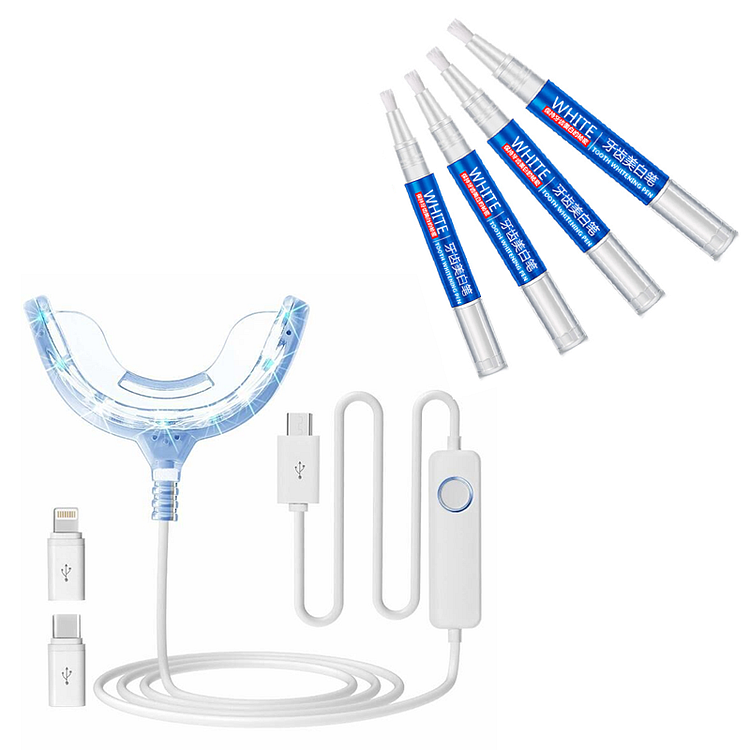 With teeth whitening, your self-confidence will skyrocket!
Whether you're in the office, on a date with your loved one, or even jogging in the park, a smile with bright, sparkly teeth is hard to miss. Whiter teeth is also an indication to others that you take care of yourself and care about your appearance!
With Teeth Whitening Oral Gel LED Accelerator, you could have professional results from the privacy of your own home anytime. That's only a fraction of the price compared to you walk into your dentist clinic that easily costs you a jaw-dropping exorbitant amount of money. Great
savings!
Witness the transformation within
7 to 15 days
and it only takes
16 minutes per day
to make it happen! Start to experience and believe it yourself!
The cold-light mouth tray is so safe and comfortable to wear. It fits any teeth without the need for boiling or molding. Not forget, it is made of food-grade silicone. A total of 16 nano LED lights with strong emission guaranteed you quick results. The waterproof design makes it so easy to rinse with water for your daily convenience.
One-Button-Two-Function. The programmed timer comes with an auto-off function after 16 minutes for the best results of the whitening effect and acts as an on-off button. Time to forget the unproductive manual timing and tedious job!

For better hygiene and sanitary, a convenient dustproof box is included in the package. If you are on travel, just bring along the case with hassle-free!
Mobility and Innovation is our priority. The kit comes with Triple Interface Adapter and applicable for both Android or IOS smartphones, phone chargers, portable chargers, and computer-connecting USB. Therefore, you can even enjoy the treatment while surfing the internet or even watching your favorite Hollywood Blockbuster movie!
How to use:
Start off by rinsing your mouth with sufficient water.

Next, apply the whitening gel to the tooth surface thoroughly and evenly.

Connect the kit to a USB port or phone to power up the LED lights.

The treatment itself will last for 16 minutes and monitored by programmed timer automatically.

Rinse your mouth with sufficient water after the treatment.

Remember to rinse the mouthpiece as well for next use and hygiene purpose.
Notes:
Teeth Whitening is not a one-time procedure. It needs to be repeated from time-to-time if you want to maintain brighter teeth especially for people who like to smoke, drink coffee, and taking coloring food frequently. It is recommended to do a half-yearly treatment.

Not recommended for defective enamel exerted dentin and damaged teeth.

Not recommended for children under 12 years old and pregnant women.

Not recommended for ceramic teeth and false teeth.

Not recommended for teeth discoloration caused by lesion or medicine.

Not recommended for severe tetracycline and decayed teeth.
Package List:
1 x 16 LED Mouth Tray
1 x Triple Interface Adapter
1 x Dust-Proof Box
4 x Whitening Gel