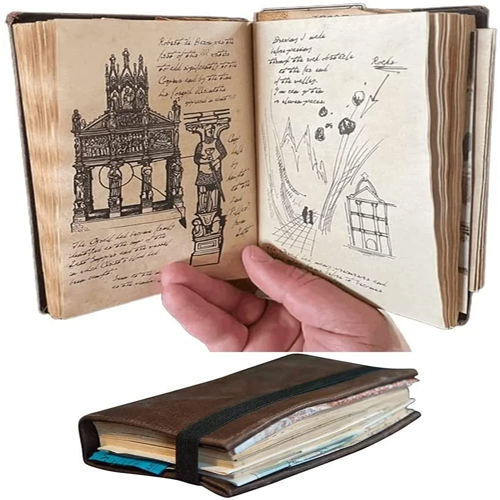 【Holy Grail Diary】Untitled Map, October Edition, Holy Grail Rubbings, Silver Dollars, Letter from Lady Eleanor, Blue Ticket, Boston Train Ticket, Franc, Deutsche Bank, Golden Ticket, Roman Numeral Fragment, Arabic Map, Venice Map , Washington quotes, various news clippings, and more!
【Re-engraved size design】Easy to carry and store. Whether it is in a backpack or a bag, it is very convenient to take it out to find clues at any time.
【High Quality Leather】The outer skin of the Holy Grail Diary is made of leather, which is more convenient to keep than ordinary paper, can better preserve the clue patterns in the Holy Grail Diary, more retro, and at the same time adds a sense of age to this diary.
【Search for the Holy Grail】 As you look back on this classic movie, hold this reenactment of The Holy Grail Diary and search for the Holy Grail every moment. You'll show up in the book, increasing your sense of engagement, as if you're also following Indiana Jones on an unforgettable journey to find the Holy Grail.
【Movie Collectibles】As a lover of Indiana Jones movies, this holy grail is your must-have collectible and souvenir. Bring your Bible journal to find that nostalgia as you revisit the film.