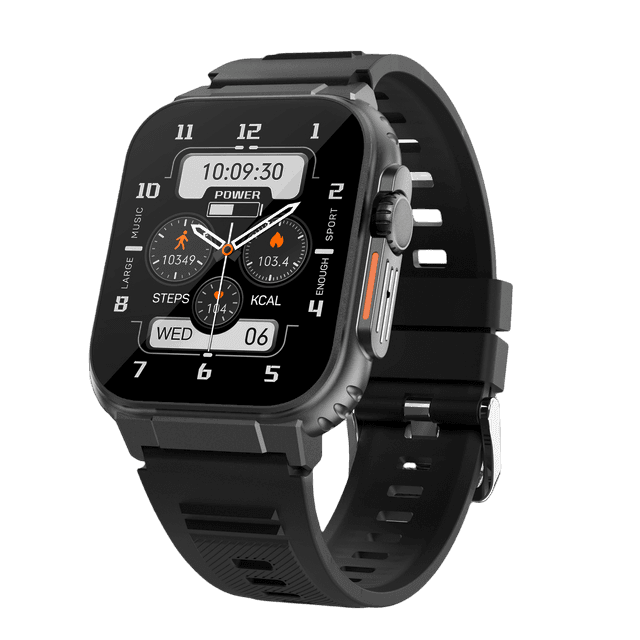 The Toughest Smartwatch Ever Just Got Better
Scratch It, Bang It, Dunk It in water.
Cover It in sparks. It doesn't care.
Most smartwatches are very delicate & overpriced. Get the Indestructible Smartwatch Ultra built with hard work in mind.
Make Phone Calls
Connect to your phone's contact list
Take phone calls from your watch anywhere, anytime.
Half The Price, All The Features
Just as functional as smartwatches 3x the price.
❤Real-Time Heart Rate
📊Blood Pressure & Oxygen Monitors
🚶‍♂️ Steps & Calories Counter
🎵Bluetooth Music Player
Blood Pressure Monitor
1 in 3 men over the age of 30 have hypertension (High Blood Pressure).

Keep Track of your body's most important vital signs:

✅ Blood Oxygen Percentages
✅ Blood Pressure Levels
Bluetooth Music Player
Sync music from your phone to your smartwatch.

Play music from it's speakers or connect to your own Bluetooth headphones.
1.96" AMOLED Screen
With it's massive 1.96" screen & over 300ppi, you'll be able to see your watch screen in the brightest sunny days or darkest basements.
Built For Action
With over a dozen sport modes,
You'll be able to keep track of any activity you throw at it
Monitor Your Vitals
Check your heart rate in real-time.

Reduce the risk of surprise Heart Attacks & Strokes and know what's going on with your body.
Truly Waterproof
Dunk it in mud or water, it doesn't care.
Don't be afraid to power wash your watch at the end of a long day.
🔋 Battery That Lasts Days Not Hours
Forget to charge it after a long day?
No Problem, it has a 14-Day Battery Life.
Free QuickRelease™ Safety Strap
If your arm or wrist is in a sticky situation, the magnetic strap will break away from your wrist.
Add the Safety Strap in the cart page for FREE
Customizable Watch Faces
Choose from hundreds of watch faces or upload a photo from your phone.
Money-Back Guarantee
If you're not satisfied with The Mountaineer Smartwatch, you don't even need to send it back.

Tear up the invoice,
you won't owe us a cent.
Contact us for a full refund.