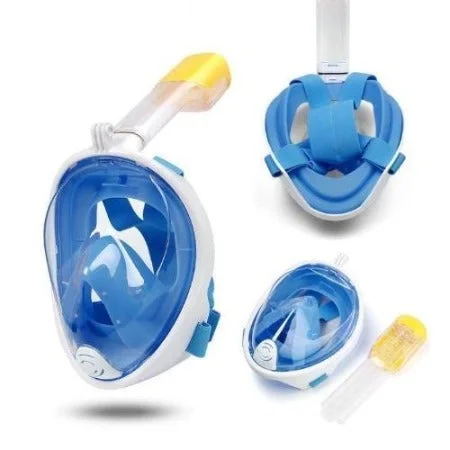 Discover 228,450 Underwater Species at a Full 180-Degree View

With our snorkels, you can discover them gradually - One dive at a time. Experience the marine world untethered and unfiltered.

Our snorkels give you a 180-degree view of the underwater. It is as real as it can get.

The Full Face Snorkel Mask
Explore the ocean effortlessly with the explorer pro full face snorkel mask. No more having to deal with fogging up, water flooding inside, or boredom. Try the Explorer Snorkel Mask and see the difference.
HOW IT
WORKS
The design and function of our snorkels are to maximize the comfort and ease of use for the best possible viewing experience with an ultra wide and clear viewing panel on the front of the mask.

The ergonomic design allows for no discomfort or hassle with the snorkel itself while in use for both adults and children.
This allows for a seamless immersion like no other to truly take in the sights and wonders of our blue planet.
COMFORTABLE, SMART, AND USER-FRIENDLY
Our revolutionary Explorer Snorkel Mask is a clear, anti-fog, full-face mask that solves all the typical problems that come with snorkeling.
The ergonomic curvature and full-face coverage is designed for maximum range of vision and comfort for a truly immersive snorkeling experience. With soft silicon to separate the mouth and eyes, fog is contained to outside your vision.
Snorkel like never before with the new 2019 Explorer Snorkel Mask.
Explore the oceans freely and dive without fear of water unexpectedly flooding your mouth.
Unlike traditional snorkel tubes, which flood with water as soon as you go under water - our extra long breathing tube features an anti-flood system to completely block water from entering your breathing tube.

This innovative design allows ease of use and maximum comfort and safety.
Bring the joy and experience to others - an integrated action camera mount lets you attach your favorite devices to capture your own personal experience to share with the family in first person.
High-tech solution that brings out the beauty and life of our world's precious ocean resources for us and our families to cherish and protect.

Through multiple design iterations and clever engineering - our comfortable, smart, and user-friendly Snorkel Masks have made it possible to explore our oceans like never before.

Explorer Snorkel Masks are available in multiple sizes, to ensure that everyone can experience the beauty of the sea.