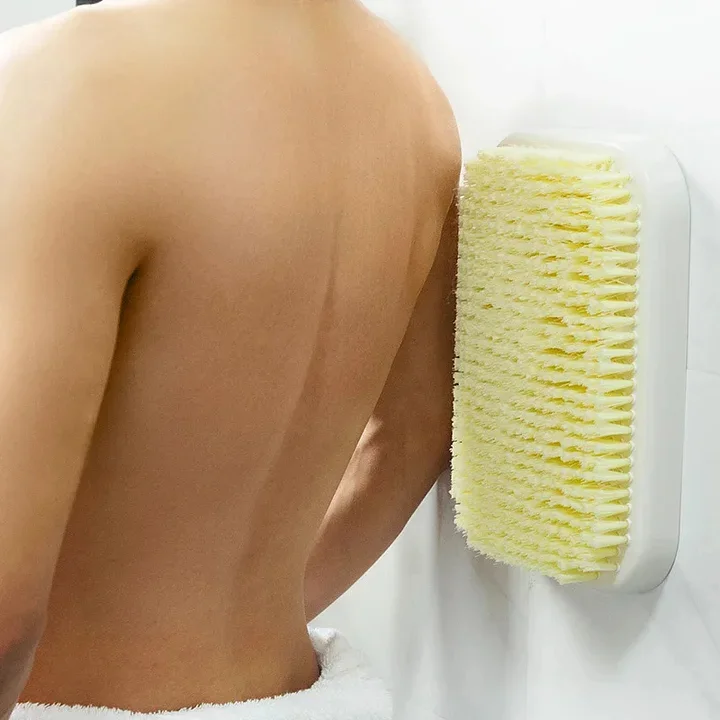 Even with a selection of body
scrubbers for use in the shower, some difficult-to-reach parts of your back are frequently left uncleaned.
Our wall mounted back scrubber for shower
is ergonomically designed and precisely manufactured to hang on your shower wall, allowing you to rapidly wash and
scrub those hard-to-reach areas without straining your arms and hands.
The supply in-shower cleaning brush
makes it easy to practice regular exfoliation, especially in the often-overlooked back area, which is prone to dead skin, whiteheads, and pimples. Unlike synthetic back scrubbers and loofahs, this body exfoliator has robust bristles for
effortless cleaning while remaining soft and skin-friendly to avoid discomfort.
With the supplied back shower scrubber,
getting a decent back scrub won't be too difficult. Our exfoliating back scrubber may be readily placed on a flat shower wall, whether tiled or painted drywall, using heavy-duty adhesives (included in the package),
as long as the area is thoroughly dry before installation.
Our in-shower back scrubber
is designed to be installed on the wall not only for convenience and simplicity of use, but also for
cleanliness and sanitation.
The silky bristles of our back exfoliating brush, when placed vertically on your wall, will allow for easy and rapid drying.
It's incredibly simple to keep your shower back brush as clean as your body.
Our objective is to make your life easier.
We make certain that all of our problem-solving products are long-lasting and dependable. Take the waist as the standard, stand up straight,
massage to the bottom of the back,
and squat to the top of the back. If you are unsure, you can apply 2 pieces of 3M glue first, remove it after the test, and then reapply 8 pieces of 3M adhesive.
This bath back brush has been designed just for your enjoyment.
✔️Massage

body and improve back circulation
✔️Bathing

accessories designed for your convenience
✔️Easy-cleaning brush for hygiene
✔️In-shower

brush installed in as easy as 1-2-3
✔️Exfoliating

body scrubber with soft bristles
✔️Wall-mounted body brush for hassle-free bath time
✔️Soft

and skin-friendly
✔️Robust

bristles for effortless cleaning
✔️Practice

regular exfoliation
✔️Ergonomically

designed
✔️Newly

upgraded large size
✔️Clean

your back deeply