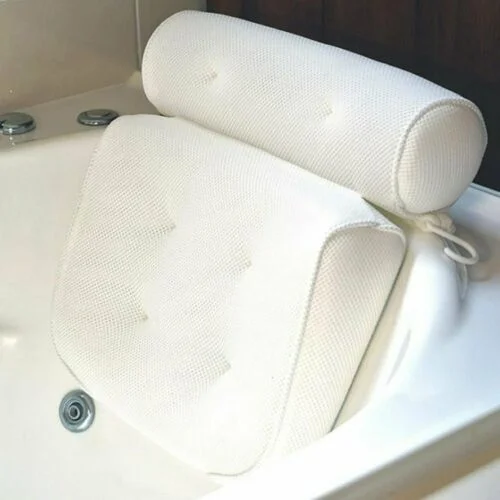 Non-slip Extra Thick Bathtub Cushion Pillow
While soaking in a warm and scented bath, improve your bathing experience by using the relaxing bathtub pillow. The bathtub cushion supports your neck and back while bathing, making it a more pleasurable experience.
The tub pillow has six suction cups that allow it to attach to the surface of your bathtub without falling off. This ensures that when the hot tub cushion is submerged in slick, soapy water, it will not slide down.
This bath pillow for tub is made with a high-quality mesh outer layer that is gentle on your skin and soft to the touch. Not only that, but the bathtub neck pillow is incredibly hygienic and will not emit foul odors even when used frequently.
Most importantly, the tub pillow is equipped with a handy hook that allows you to hang it to dry. By choosing the best bath pillow, you can ensure that every bath you take is more soothing and enjoyable.
FEATURES
EASY TO CLEAN  - To clean the bathtub pillow, toss it in the washing machine or handwash it. Once it's all clean, you can hang the bathtub pillow on any rack and it will dry completely in no time.
ERGONOMIC - The bathtub cushion gives excellent comfort and relaxation thanks to its humanized design. Not only that, but the bathtub cushion is quite easy to install in almost any bathtub.
ANTI-BACTERIAL - The bathtub cushion is made of a mesh outer fabric that prevents bacteria from growing on its surface. Regardless of how many times it is wet in the bath, this bathtub pillow remains germ-free and odor-free.
SPECIFICATIONS
Material: 3D Mesh & Polyurethane
Color: White
Item Size: 36x33x8cm/14.18x13.0x3.15in
Item Weight: 345.5g/0.77lbs
Package Size: 43x45.5x8.5cm/16.93x 17.92x3.35in
Package Weight: 360g/0.8lbs
PACKAGE CONTENT