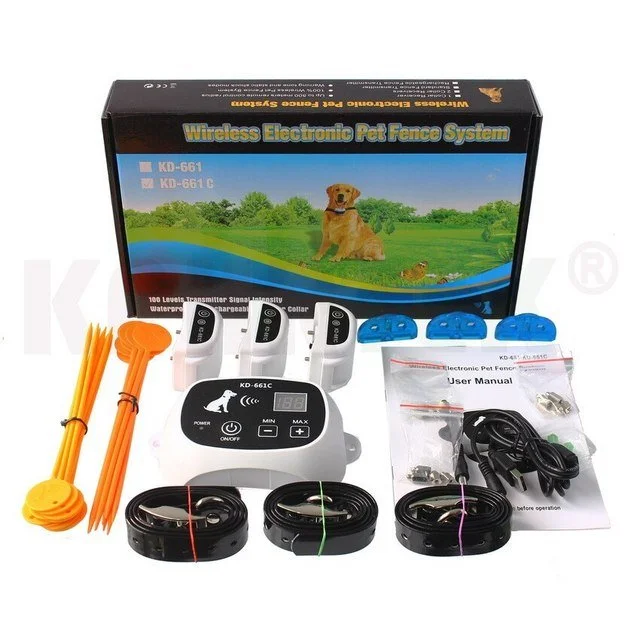 The digital wireless dog fence can assist in training dogs to develop the habit of living in their own independent zone and maintain the cleanliness and organisation of your furnishings and daily essentials.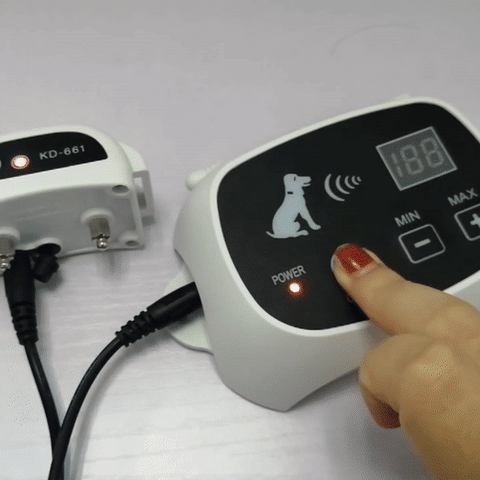 It specifically prevents your pets from living in an uncomfortable real fence.
You won't ever have to worry when you go outside if you make sure your dogs stay in the designated area.
⌚ Install within 1 - 2 hours
✅ No need to dig or bury wires
💲 Cost less than a traditional fence
🏕 Travel-ready
Can also be widely used for dog training at home or on field trips.
PRODUCT HIGHLIGHTS
Intelligent Fence Area
For training pets, this electric pet fence system is dependable and secure.
It was quite easy to create a secure area for pet activities and fully eliminated the hassle of wiring.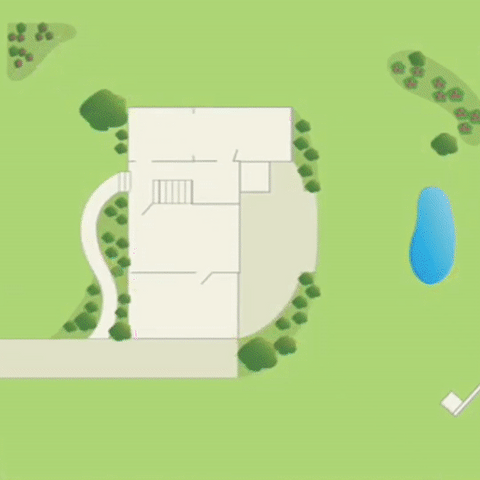 With 100 levels of transmitter signal intensity to adjust the remote control range.
Its remote control range is a circular area with a radius of 82-1620ft, and coverage is up to 78 hectares.
In a large space, your dog can go everywhere freely and safely.
Rechargeable Receiver Collar
The wireless receiver collar is composed of IP67 waterproof material and has a high-capacity, long-lasting, rechargeable battery.
This implies that the electric dog fence system allows your dog to play in the rain, get wet in the grass, or meddle with the sprinkler.
Most dog sizes are supported by the receiver collar's adjustable TPU strap (10-110lbs, neck: 8-28 inches).
How it works
When your dog runs outside the selected control range, the system will automatically start up, and the receiver will begin to function by providing warning sounds every two seconds.
After the third warning tone, begin the static shock at a low level and gradually raise the strength.
In order to spare your dog from harsh punishment, the receiver will stop working after the third cycle if your canines persist in staying outside the designated region.
Thoughtful Design and Confident Purchase
The receiver emits static electricity when operating at a voltage of 3.7V; it has no adverse effects on the dog or its hair.
The product's wireless architecture can operate in any terrain.
Additionally, many receivers can operate simultaneously on a single transmitter.
Wi-Fi connectivity is offered in place of a cable connection by this reliable and safe dog fence system, making installation considerably simpler than in the past.
A range of up to 500 metres is offered by the transmitter, which serves as the centre. The receiver collar worn by the dog's neck will initially beep as soon as it detects movement outside of the predetermined range when your dog approaches the barrier.
The receiver will shock your dog with progressively increasing intensity if it continues to run toward the border until it returns to the pet area.
OUR GUARANTEE:
We believe our products can help people's everyday lives, and we fully stand by our products. We offer a risk-free 30-day guarantee on all our products. If you don't have a great experience, we will ensure you are satisfied with your purchase. We also offer a 1-year free breakdown warranty on our products.