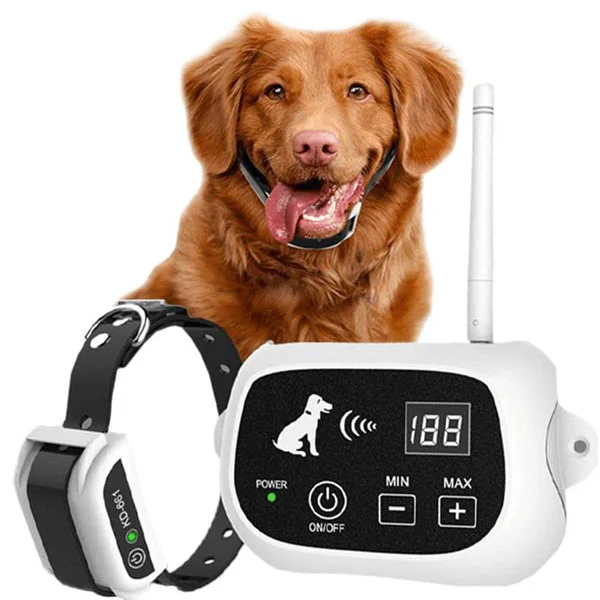 Let your pet have the liberty of your yard without the fear of them running away!
The Wireless Electric Dog Fence System is one of the most reliable and safest wireless fences. It has the same principles as an underground fence and is completely wireless.
It is instant and portable, so it is great for travel. The wireless fence uses a constant radio signal to create a safety zone with a range of up to 5000 square meters range(over 1.24 acres)
Now keep your fur kids safely inside the premises of your property with Wireless Dog Fence. A wireless electric dog fence that makes a circular safety zone around your property to train and stop your pet from running away.
Wireless Dog Fence works by automatically alarming your dog if they try to run away and give them a safe correction shock if they escape the Wireless Electric Dog Fence. The intensity of the correction shock increases as the dog moves away from the safe area, leaving them no choice but coming back home. The correction is designed to interrupt undesirable behavior but never to harm them.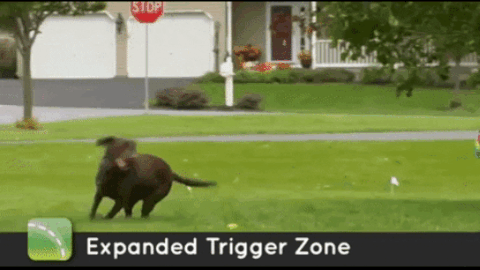 Completely Wireless Operation: Just locate the transmitter near a power socket without any hassle. Wireless Dog Fence emits radio frequency signals, unlike old versions that require digging the ground and burying the wires or making a real fence!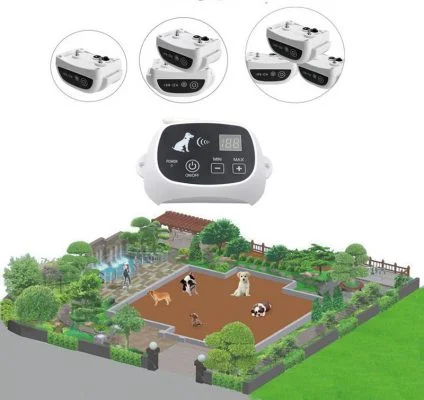 Smart E-Collar: The electric receiver collar of Wireless Dog Fence is rechargeable. Once fully charged, it will back you up for more than a month. Being IP67 waterproof, you don't have to worry about your dog playing in the water.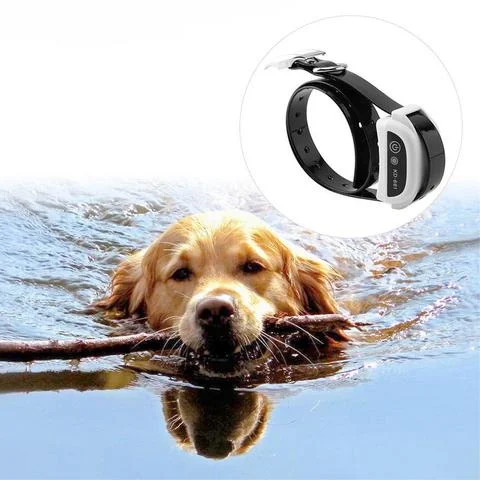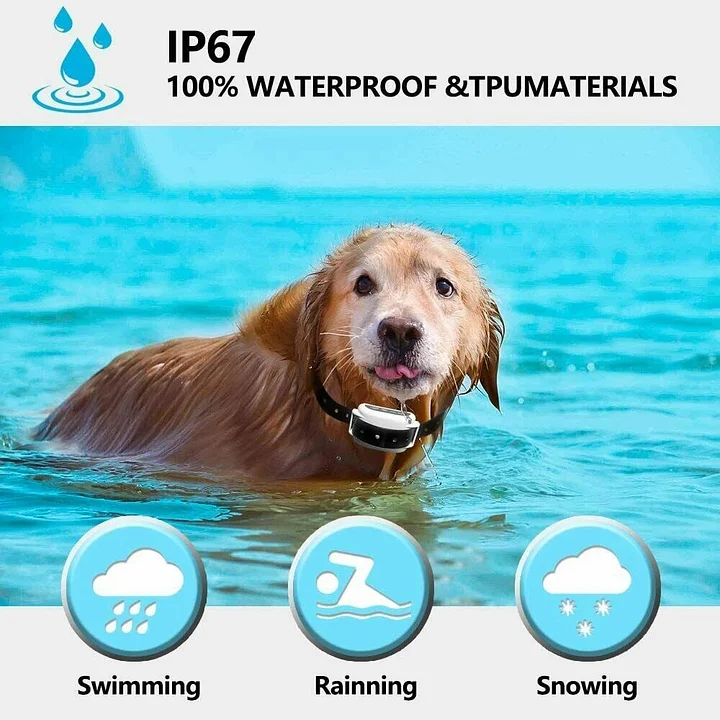 Adjustable Range: With adjustable range, you can increase or decrease the safe area perimeter. Press the Plus (+) and Minus (-) button on the base to increase or decrease the range respectively. The range is also displayed on the screen of the base, 500 meters max.
Dual Correction Methods: There are two training modes on, beep alert, and correction shock. The collar beeps every two seconds, three times or it can give a safe static shock that gradually increases from levels 1 – 4.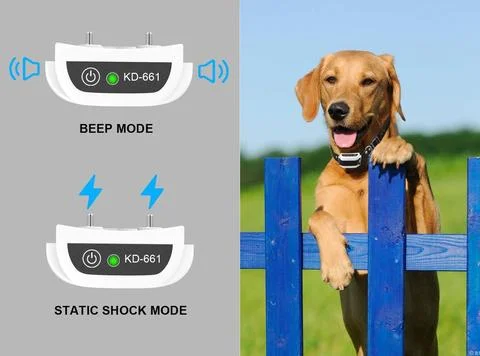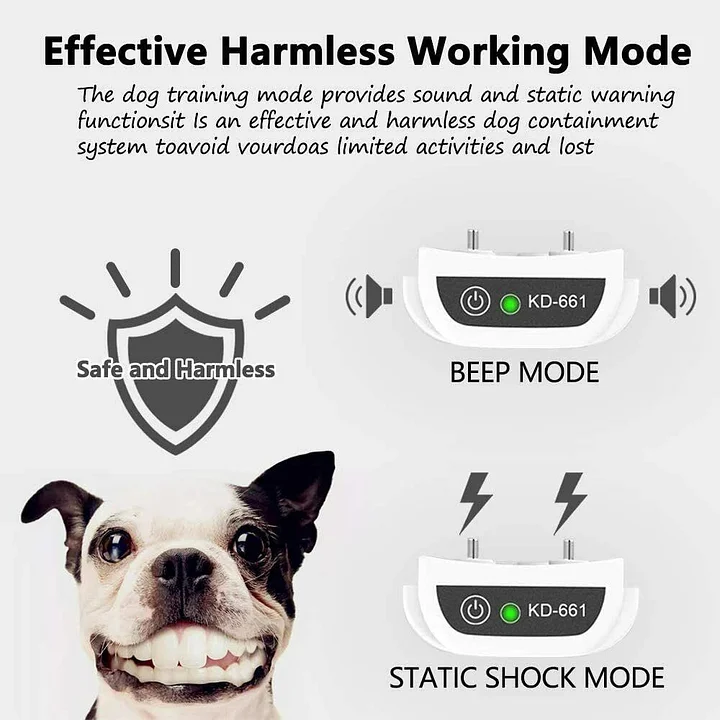 Multiple Pets Compatibility: The Wireless Dog Fence transmitter can be used for a maximum of 3 E-collars which means it is perfect for those having more than one pet. The wireless fence works for all size dogs and being light and portable, it is great for travel.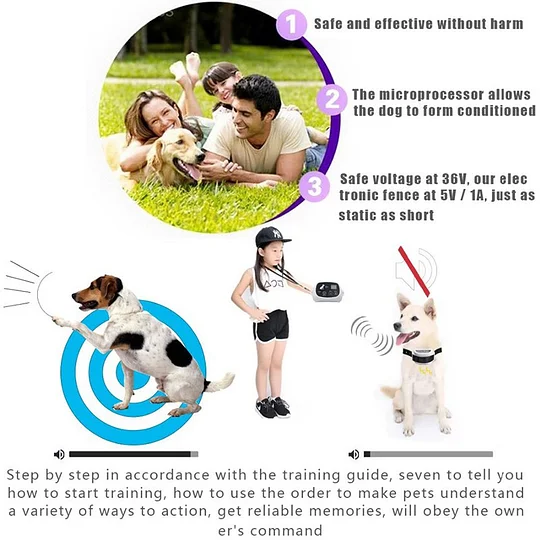 How does It Work?

The working principle of Wireless Electric Portable Fence is simple. The transmitter will track the distance of your dog by sending repeated signals to the receiver that is attached to the dog's collar.

When the collar receives signal from the base unit, the collar is considered still within the safe zone boundary and no correction will be sent off. If for some reason the collar stops receiving signal (e.g collar goes out of boundary, signal blocked by obstacle, or the transmitter battery dies), the collar will be considered to be run out of the safe zone and it will start entering the working mode to send off the correction.

The principle of the working mode is as follows:

Phase 1 - Collar will beep for 5 seconds;

Phase 2 - Collar will vibrate for 5 seconds;

Phase 3 - Collar will beep & vibrate together for 6 seconds;

Phase 4 - Collar will shock for 5 seconds;

Phase 5 - Collar will beep & shock together for 6 seconds;

Phase 6 - Collar will keep beeping until it returns and receives a signal

If the collar returns to the boundary and is able to receive back signal transmitted by the base unit, the collar is considered to have returned to the safe zone and it will stop sending off correction.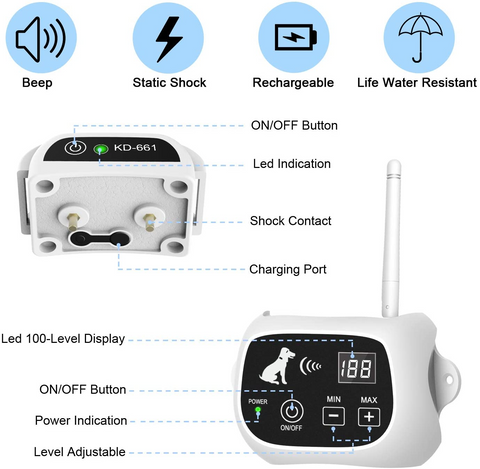 Specification
Material: plastic
Weight: about 430-720g(base on different set)
Range: 500m Dimension:
Transmitter: 14.8*8.5*80 cm / 5.8*3.4*31.6 inch
Receiver: 6.5*3.9*80 cm / 2.6*1.5*31.6 inch
Package Included
1 x Wireless Transmitter
1/2/3 x Wireless Receiver
1/2/3 x Adjustable Neck Strap
1 x DC-USB Charging Cable
1 x Power Adapter
4/8/12 x Metal Contact Probes
1/2/3 x LED Test Light
2 x Screws
2 x Plastic Anchors
20 x Training flagpole 1 x User Manual
Only 1 Collar Receiver For Dog System
1x Receiver
1x Strap
4x Screws
1x LED Test Light
Note:
For optimal performance, place the transmitter 5 feet from the ground and away from metal walls to avoid any signal interference.
Setting markers for your pet help them understand where their boundaries are which further helps training them where the area ends.
Buy two bases for extended coverage or if you have more than 3 pets.