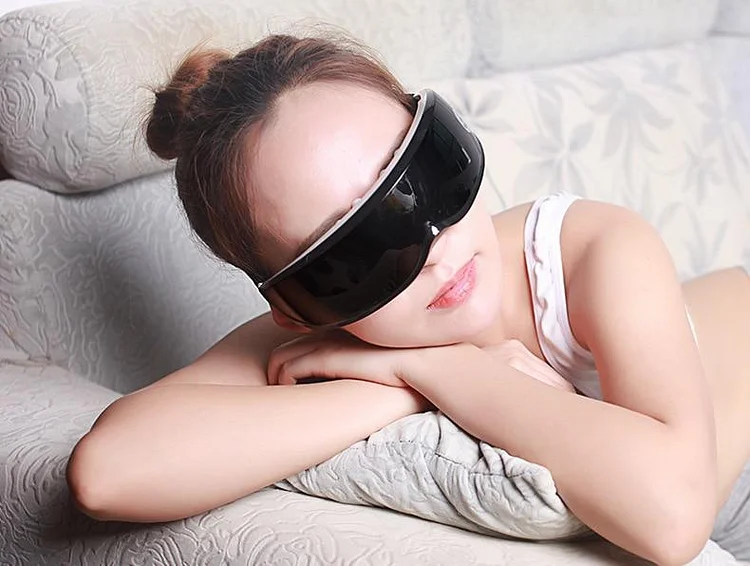 This amazing mask is meant to help you drift off into a pleasant slumber by applying beauty & sleep technology to your eye area. It gives you a relaxing massage that carries you off to dreamland.
Our sleep mask is the best way to get a wonderfully restful sleep that is soothing and relaxing. It also improves blood circulation to the eye area!
FEATURES:
EASY TO USE: Heated massage goggles are portable, powerful, and very useful
ON/OFF BUTTON: Easily switch the heat mode on or off with a simple click of a button. it's that simple! Turn heat all the way up to 42 degrees Celsius
MULTI-FREQUENCY VIBRATION: Comes with an adjustable multi-frequency vibration that is used in only the newest innovative massage technology.
BLUETOOTH COMPATIBLE: Hooks up to your favorite music device via Bluetooth
PORTABLE: Small and compact so the goggles are very easy to take with you on vacation, business trips, and more. The device is extremely lightweight and has 180° foldable capability which makes it easy to store
COMFORTABLE: Extremely soft material feels lovely against your skin. The adjustable strap allows you to put it on as tight as you want or as loose as you want. Fits all head shapes & sizes!
LONG-LASTING BATTERY LIFE: Battery life can last for 6-7 uses on a full charge. Equipped with a discreet USB socket that is underneath the device
STYLISH DESIGN: The outer shell of the goggles was designed for comfort and style. it looks futuristic and posh!
PACKAGE INCLUDES:
1x Smart Eye Massager
1x USB Charging Cable
SPECIFICATIONS:
On/Off Heat mode
Adjustable Multi-Frequency Massage
Acupoint Relief
USB Rechargeable
Bluetooth Music Capability
Innovative Air Pressure Technology
180° Foldable Frame
Light-Weight & Travel-Ready
High-Quality Flannel Material