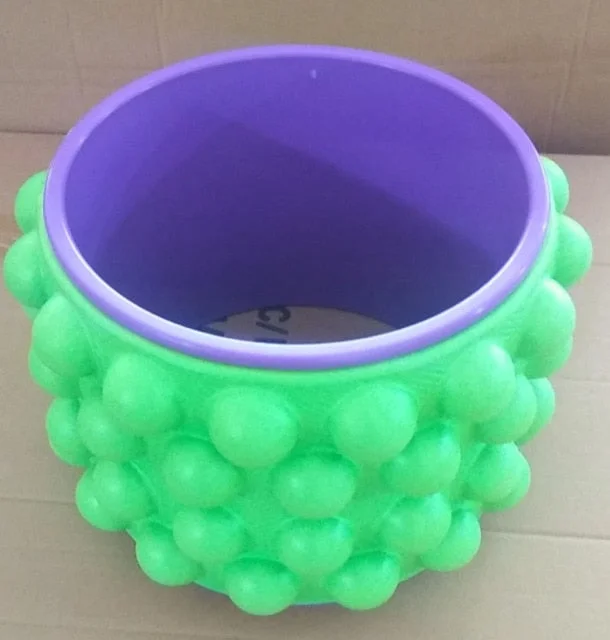 The Ultimate Back Roller : Myofascial Release, Trigger Point, Yoga Wheel, Foam Roller, Back Pain, Yoga Wheel for Back Pain, Back Massager, deep Tissue, Massage, Exercise, Mobility
IMPROVE YOUR YOGA POSES: This has been designed to help you improve your flexibility; achieve more challenging poses and perfect them. It helps to stretch your hips, abdomen, chest and back. It will massage your spine in a safe way. It's the perfect addition for beginners as it allows you to master back-ends and hand stands quicker with a perfect form.
PERFECT HAND STANDS, IMPROVE FLEXIBILITY: If you've been trying to get into a handstand, but can't seem to quite get there, this yoga wheel could be your missing piece. Learning your placement with the wheel as guide—and building that core and arm strength—will prepare you to perfect hand stands. Not only does this open your back, it also enhances your flexibility. It allows you to experiment with advanced yoga asanas that you may never have dreamed you could get into.
STURDY & BUILT TO LAST: It has a durable skid-resistant Eco Friendly TPE padding (3/4" thick) providing soft and comfortable sensation to your palms, shoulders, feet and back. The strong ABS inner core is extremely strong and will support up to 500 lbs, DOESN'T FLEX OR BEND

UNDER ANY CIRCUMSTANCES. This is built to last!
ECO FRIENDLY, MOISTURE PROOF & BACTERIA FREE: The TPE padding has moisture resistant technology which makes the mat water-proof to keep it moisture and germs free! So you can be sure that it will be free of musky scents.