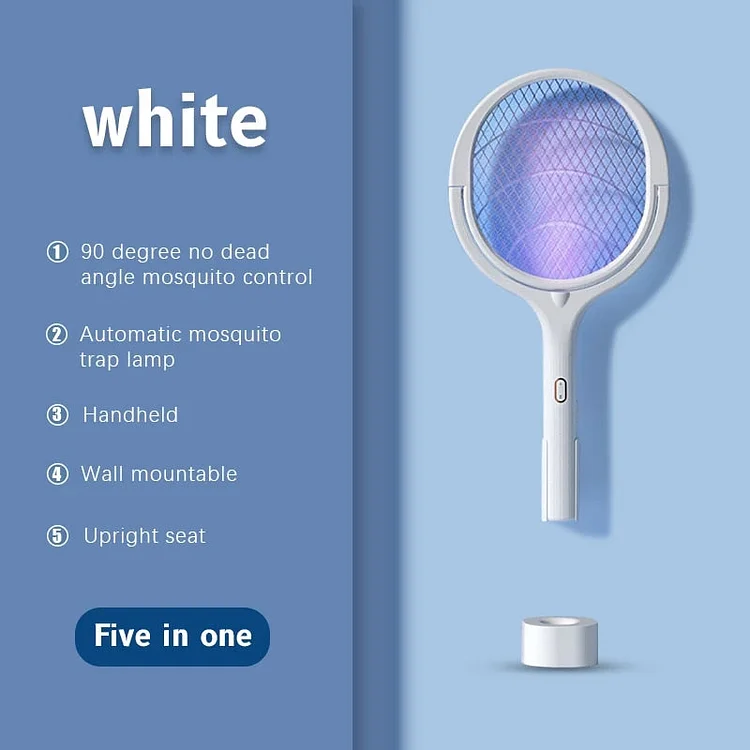 The BEST Solution For a Bug-Free Home!
Protecting you and your loved ones from mosquitoes is easier and safer... than ever!
We all know that mosquitoes can pose a great threat to our families. So better take no chances and make sure that your home is free from those deadly insects.
No more mosquitoes in your with the new ZapRac
With it, you can be sure that there will be no insects that will disturb them when they are inside your house.
You may not be able to guard your little ones the whole time, but you can depend on this mosquito killer.
Benefits
Patented Rotating Head Design: Easy use in various angles and scenarios. Make it easier to capture bugs on walls or ceilings.
Rechargeable Battery: High capacity rechargeable battery for longer running time and longevity. Charge via USB Type-C port.
Fit as home decor: Modern look and easy to organize while instantly killing any flying bugs such as flies, mosquitoes, gnats, or moths.
3-layer Safety Protection: 3-layer wire mesh design for safety protection. No shock when accidentally touch.
Universal: Handheld to capture bugs. Standing to attract bugs. Wall mount for neat storage or attract bugs.
How It Works
1. Pull the switch to "ON" and press the zap button above the switch; the red light turns on. Wave the swatter to mosquitoes and they will be killed immediately.
2. Pull the switch to the "UV Light " button, the Purple lights will keep Lighting, and enter into automatically bug zapper mode. please keep plugging in the power.
3. Pull the switch to "OFF" after using. But DO NOT touch the metal net until 5 seconds later.
3. Please pull the switch to "OFF" when charging. The red light indicates the swatter is charging normally and a green light indicates fully charged after 3-5 hours of continuous charging.
Specifications :
Color: White/Green(Optional)
DC Volatge: 3500V
Battery Capacity: 1200mAh
Input Voltage: DC 5V
Charging Time: About 2 Hours
Size: 24x49cm/9.44x15.29in
Base Size: 8.8x3.8cm/3.46x1.49in
Package Included :
1 x Mosquito Swatter
1 x USB Cable
1 x Base
1x Hanging Bracket
WHY IS ZapRac™ THE BEST CHOICE?
✓ Best Electric Mosquito Zapper (Faster and Effective compared to others)
✓ Best Investment to
save time and money
!
✓ Rated 5 Stars ⭐️⭐️⭐️⭐️⭐️
✓ Risk-FREE + Affordable + It's FREE Shipping
✓ Effective in driving bugs away.
✓ Live BUG-FREE
✔️ Order Now & Make Your Life Easier! ✔️
FAQ
Does it work on other bugs? Like spiders on the wall.
-

Yes. It is great on all creepy crawlies too.
D

oes rotation head spin freely?
-

Yes, it will rotate 90 degrees. Plus, it will hold at the flat position with damping force to prevent accidentally spinning.
Does this work on carpenter ants or any other bugs like wasps beetles or carpenter ants or waterbugs?
-

Yes, it should work on these insects mentioned. just remember to charge it fully before using it.
C

an you plug it in to charge and keep

it on all night?
-

Yes, you can keep it on while charging it. Unlike other products that charging power is less than consumption power so it won't stay on continuously. Our product will work continuously while charging.
Does this work on cockroaches?? Anyone try it
-

It should. But you need to zap them a little longer to kill them because they are larger pests. And make sure you charge the zapper to have enough power to zap them.
SO, WHAT ARE YOU WAITING FOR?
Scroll Up and Click
'

Buy Now

'
to
try the
ZapRac™
today as thousands of people have already, and finally be able to
drive bugs away
!
-
BEWARE of Imitation Devices*
-
Buy 2 or More and Get an

EXTRA 10% Off

with Discount Code:

Zap10
*NOT SOLD IN STORES*
UPDATE: Due to the huge increase in social media attention and COVID-19, we're running extremely low on these, and delivery times might take 5-15 days, so hurry and Buy Now before it's all gone.
*If you are not satisfied with your product,
contact us
and we will refund you*