The Most Effective Trap Ever Made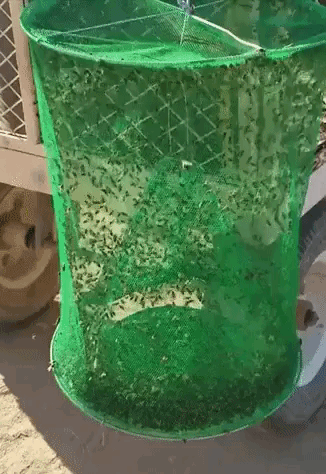 Flies are always be a great trouble in the summer. They keep flying around and make much noise. Sometimes they even spread diseases.
With this product, you will take ease for all the summer days. No longer being constantly irritated by flies. No need to worry about your food and pets, enabling you to stay in a comfortable environment. 
FEATURES
Usage: hanging on 1 meter from the ground. In the summer hanging in the shade; in other seasons hanging in the sun.

Make use of bait to lure flies, and flies entering into the cage will be a lack of food. Suggestion: Fish intestines, rotten fruits, etc.

Made of high quality gauze mesh construction, environmentally friendly, durable and reusable.

Reduce the annoying flies and bugs safely and efficiently. It can traps and kills up to 20,000 flies.

Widely used in public places, such as parks, gardens, farms, restaurants, slaughterhouses, food processing plants, toilets, garbage rooms.
NOTE: To make it effective – appropriate temperature and bait are the key.
  
SPECIFICATIONS
Weight: 150 g

Color: green

Package Size: 26*26*9 cm
PACKAGE INCLUDED
1 * Flay Catcher for Indoor or Outdoor