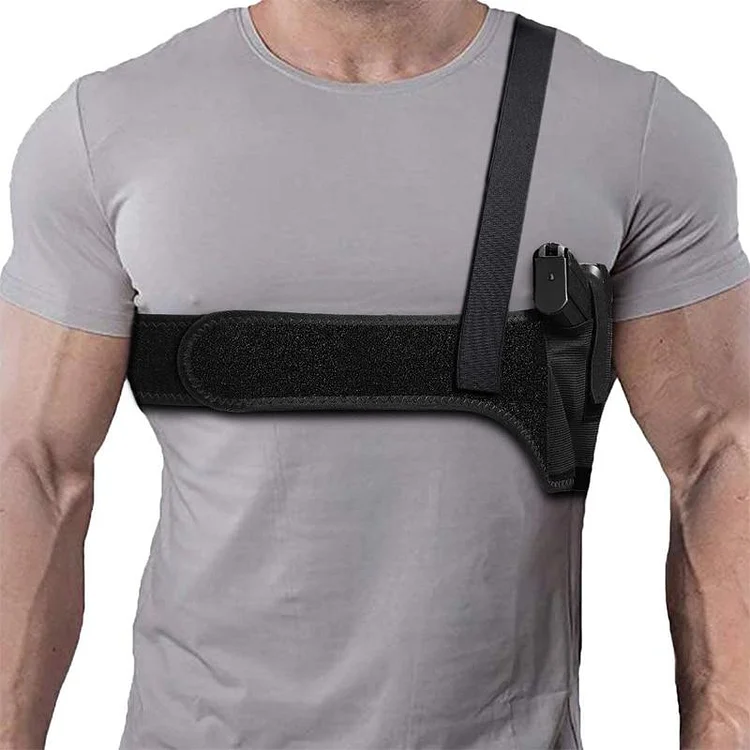 '' Easy On, Easy Off ''
Light Weight & Comfortable
An easy choice for dedicated concealed-carry use - comfortable, affordable, and functional.
Works for both left- and right-hand configurations. The holster is universal, but we recommend keeping weight down with a compact or subcompact pistol. It's easy to keep out of sight and comfortable for running and other outdoor activities.
✔ COMFORTABLE CARRY:

Concealed Carry Shoulder Holster has solved the comfort issue with a new breathable perforated neoprene base that lays softly against the body. and we use the new narrow edge design, This allows you comfort for extended periods100% Concealed Carry Holster.
✔ VERSATILE CARRY OPTIONS:

Your can deep concealment under arm. Remove the shoulder strap, can be concealed carry inside the waistband, or outside the waistband.
✔ UNIVERSAL DESIGN FITS ALL PISTOLS:

Adjustable strap - perfect for your needs. Also, this shoulder holster accommodates nearly every compact, mid-sized and even full-sized compact pistol and pistol on the market. .380, 9mm, 40 Cal, 45 ACP, 38 Special, 357, 10mm, etc. Perfect for small and compact models! Works for Right & Left Hand.
✔ QUICK DRAW AND NO PRINTING:

Allows you to flick up the retention strap with the back of thumb to draw the firearm quickly and effectively. Also, you can walk, work out, and even run with this shoulder holster. This underarm holster allows you to carry concealed discreetly with no possibility of firearms showing through your shirt (printing).

✔ RIGHT AND LEFT HAND DRAW:

Shoulder Holster is available in right and left hand draw.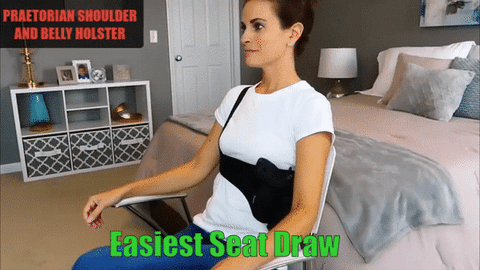 Quick-Drawing

d

esign helps prevent the

"

bad guys

"

from any reaction and provides you 3-5 "upper-hand" seconds for your self-defense.
The gun holster is made of a

breathable neoprene

material band, extremely comfortable, noise-free access to the weapon.
Remove the shoulder strap, which can be concealed carry inside the waistband, or outside the waistband.
Vertical Shoulder Holster Design - Firearms are pointed safely downward instead of horizontally.
Ambidextrous Design - Works for Right & Left Draws.
Specification
Material: Neoprene

Color: Black

Size: Suitable for 30-45 inch chest.
Packing included
1 X Shoulder Holster

1 x Strap
FREQUENTLY ASK QUESTION
Q: Is right hand orientation meant as drawing with your right hand, or sitting on the right side?
A: Right hand means the holster carried under the left shoulder from which the pistol is drawn across the chest with the right hand.
Q: How long does this holster last?
A: Quality is always our first priority, our holster is going to last a really, really long time.
Q: Does it smell terrible?
A:
- Many people love using leather holsters simply because it "looks great". Yes, but it smells terrible, especially with folks who have to carry it all day. Leather fully absorbs all of your body scent, road smell, pets' "perfume", and there's no way you can remove them.
Fanwill Holster is made from 100% smell-resistant, washable & breathable materials, which also allow you to wash and remove all dust & bacteria from it.
Q: Will this work on a Ruger SR9?
A: Yes, shoulder holster fits a Ruger SR9
Q: Wash?
A: You can hand wash your holster in warm soapy water by soaking it and working it with your hands. Then thoroughly rinse under cold water and hang to dry. Do not machine wash or dry. Remember: Do not machine wash or dry.